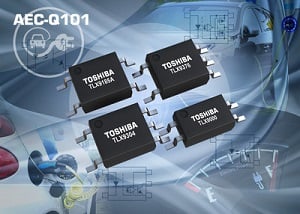 The TLX9304, TLX9378 and TLX9376 photocouplers. (Source: TAEC)Toshiba America Electronic Components, Inc. (TAEC) has introduced a new range of photocouplers for automotive applications that demand isolation, interface, switching and a small form factor.
The AEC Q101-qualified photocouplers can operate at temperatures from negative 40 degrees Celsius to 125 degrees Celsius, making them suited for inverter control and intelligent power module (IPM) interface applications in electric vehicles and hybrids.
TAEC says the devices have a creepage/clearance distance of 5 millimeters and offer a minimum isolation voltage of 3750 volts RMS. The TLX9304, TLX9378 and TLX9376 integrate a GaAIAs infrared light emitting diode and high-gain, high-speed photodetectors. An internal Faraday shield provides a common-mode transient immunity of 15 kilovolts per microsecond.
The photocouplers are available now.