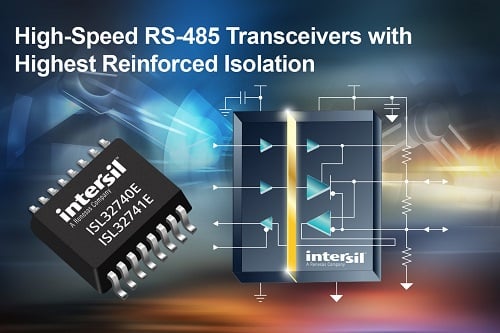 The ISL3274x transceivers. Source: IntersilIntersil, a subsidiary of Renesas Electronics Corp., has introduced two high-speed isolated RS-485 differential bus transceivers that provide 40 megabytes per second bidirectional data communication for the industrial internet of things (IIoT).
The ISL32741E features a 1,000 VRMS working voltage and 6 kilovolts of reinforced isolation, which Intersil claims is two times higher than other solutions. The ISL32740E features a 2.5 kilovolt of isolation and 600 VRMS working voltage that enables high channel density for programmable logic controllers (PLCs) in factory automation applications.
Both transceivers include ultra-low radiated emission and EMI susceptibility, support for up to 160 devices on the bus and have an extended 125 degrees Celsius temperature range. Intersil says the transceivers are well suited for the equipment-to-bus interface in PROFIBUS DP and high-speed RS-485 networks that connect PLCs to instruments, robots and motor control drives as well as data acquisition and digital input/output modules.
The transceivers are fully compliant with the EN 50081 and EN 50082-2 electromagnetic compatibility (EMC) standards and the umbrella line-voltage standard for information technology equipment (ITE) EN 61000.