Silicon-based CMOS (complementary metal-oxide semiconductors) technology is changing the world before our eyes. Silicon-based CMOS are one of the main driving forces behind most of the technology we use in our daily lives, from smartphones to computers. The electronics industry is always developing and growing, but in order to continue on this path, new technology must be developed to integrate CMOS with other semiconductors. Graphene Flagship researchers from the Institute of Photonic Sciences in Barcelona (ICFO) have proven that it is possible to integrate graphene into a CMOS integrated circuit.
The researchers have combined this graphene-CMOS device with quantum dots. This creates an array of photodetectors, which produces a high-resolution image sensor. When this device is used in a digital camera, it has the ability to sense UV, visible and infrared light all at the same time. Other uses could include microelectronics, sensor arrays and low-power photonics.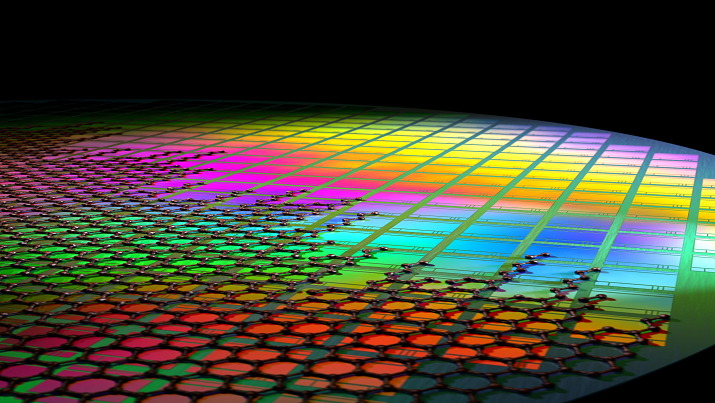 This is graphene integrated onto CMOS pixels. (Fabien Vialla)
"The development of this monolithic CMOS-based image sensor represents a milestone for low-cost, high-resolution broadband and hyperspectral imaging systems" said ICREA Professor at ICFO, Frank Koppens. He assures that in general, "graphene-CMOS technology will enable a vast amount of applications, that range from safety, security, low-cost pocket and smartphone cameras, fire control systems, passive night vision and night surveillance cameras, automotive sensor systems, medical imaging applications, food and pharmaceutical inspection to environmental monitoring, to name a few".
The Flagship team has managed to solve a complex problem with a simple solution by creating a graphene and quantum dot system on a CMOS wafer, using a layering and patterning approach. First, graphene is deposited and patterned to define a pixel shape. The last step is adding a layer of PbS colloidal quantum dots. The photoresponse of the system is based on a photo gating effect. This starts when the quantum dot layer absorbs light and then transfers it as photogenerated holes or electrons to the graphene. They then circulate due to a bias voltage that is applied between two-pixel contacts. The charge in conductivity of the graphene senses the photo signal. Graphene's high charge mobility allows the device to be highly sensitive.
Professor Andrea Ferrari, Science and Technology Officer and Chair of the Management Panel of the Graphene Flagship said, "The integration of graphene with CMOS technology is a cornerstone for the future implementation of graphene in consumer electronics. This work is a key first step, clearly demonstrating the feasibility of this approach. The Flagship has put a significant investment in the system level integration of graphene, and this will increase as we move along the technology and innovation roadmap".
Commercial applications of this device, research and the potential for imagining and sensing technology is being explored in ICFO's Launchpad incubator. Their paper was published in the journal Nature Photonics.