Non-disruptive Characterization of Graphene
Researchers at the University of Basel in Switzerland have developed a new method to determine resistance and quantum capacity of graphene without the application of any electrical contact that can disrupt or damage the material.
Graphene is one of the marvel materials first "created" in 2004. Its outstanding properties will significantly alter the way we design electronic devices, among other gadgets. Graphene consists of a single layer of carbon atoms structured in a honey-comb pattern. It is harder than diamond, stronger than steel and a much better conductor than silver or copper. Its properties have been researched since its creation in order to find useful applications for this material.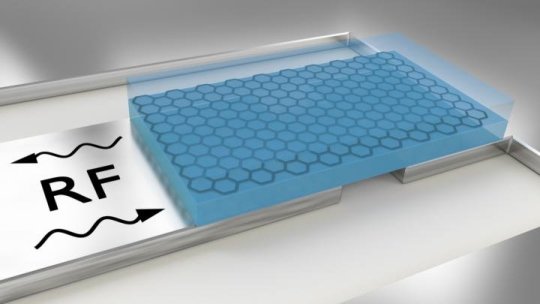 The layer of graphene (black honeycomb structure) encapsulated in boron nitride (blue) is placed on a superconductor (gray) and coupled with a microwave resonator. By comparing microwave signals (RF), the resistance and quantum capacitance of the embedded graphene can be determined. Credit: University of Basel, Department of Physics/Swiss Nanoscience Institute
To characterize electronic properties of materials—including graphene—normally electronic contacts are used. However, the physical interaction may alter the properties of the material under test, in many cases making the characterization a useless task. This may change from now on, at least for graphene and other two-dimensional materials, because Professor Christian Schönenberger and his team from the Swiss Nanoscience Institute and the University of Basel's Department of Physics have developed a new method to determine these properties without the application of any physical intervention.
The method the researchers used is very simple and ingenious. The graphene to be tested is buried in boron nitride to isolate it from the environment. Then the compound is placed on a superconductor and a microwave resonator is connected to it. It happens that the electrical resistance and the quantum capacitance of the graphene change the resonant frequency of the resonator. Because the resonant frequency of the resonator without the embedded graphene is known, a simple comparison of the fixed resonant frequency without the graphene with the resonant frequency with the graphene can determine both the resistance and the quantum capacitance of the material. "These parameters are important in the determination of graphene's exact properties and in the identification of limiting factors for its application," explains Simon Zihlmann, a PhD student in Schönenberger's group.
The result of the team effort was published on May 24, 2017 in the journal Physical Review Applied. A full abastract can be found here: https://journals.aps.org/prapplied/abstract/10.1103/PhysRevApplied.7.054015