An engineer at the Erik Jonsson School of Engineering and Computer Science at The University of Texas at Dallas designed a new computing system made entirely from carbon. This new design could replace the existing silicon transistors that are currently powering electronics today.
The new all-carbon spin logic proposal is a new computing system that Dr. Joseph S. Friedman, assistant professor of electrical and computer engineering at UT Dallas, who conducted most of the research while he was a doctoral student at Northwestern University, is an upgrade on the current silicon transistors. The all-carbon transistors can make computers smaller, less bulky and increase performance.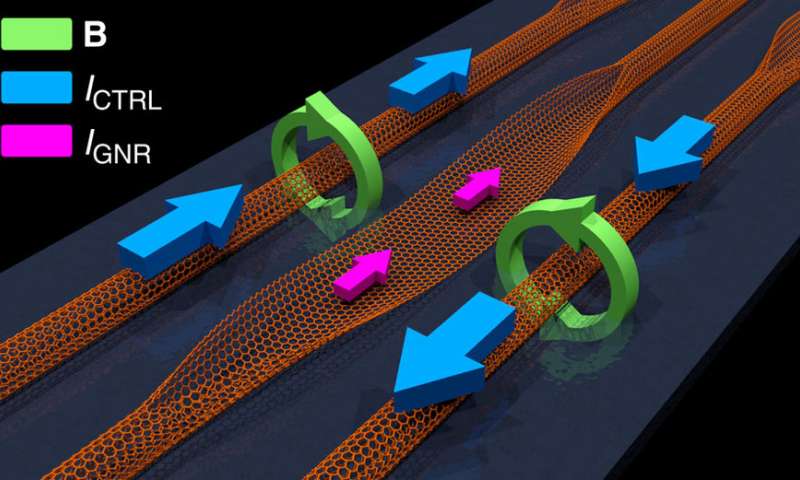 All-carbon spin logic gate. (Nature Communications)
Electronics in use today are powered by transistors, which are made up of tiny silicon structures that rely on negatively charged electrons to move through the silicon, which in turn forms an electric current. These transistors are like switches -- they turn the current on and off. These electrons carry a charge, but they also have a property called spin, which relates to the magnetic properties of the electrons. Recently, engineers have been researching ways to exploit the electron's spin characteristics, to create a new class of transistors and other devices called "spintronics".
Friedman's all-carbon, spintronic switch functions as a logic gate, which relies on a basic tenet of electromagnetics. An electric current moves through a wire and it creates a magnetic field that wraps around the wire. Magnetic fields near a two-dimensional ribbon of carbon—also known as graphene nanoribbon—affects the current flowing through the ribbon. Currently, in a silicon-based computer, transistors can't exploit the spin as they are connected by other wires. Transistor output is connected by a wire to input for the next transistor, and so on.
Friedman's new spintronic circuit design takes advantage of the spin. The electrons move through tiny wires made of carbon and create a magnetic field, which affects the current in a nearby graphene nanoribbon. This provides cascaded logic gates that don't have to be physically connected. The communication between the graphene nanoribbons happens via an electromagnetic wave. Because of this, Friedman believes that communication will be much faster -- potentially to terahertz clock speeds. The carbon materials can be made much smaller than silicon-based transistors, which are quickly nearing their size limit do to the silicon's limited material properties.
This concept is still in its planning stages, but Friedman said that they are working towards creating the first prototype of the all-carbon, cascaded spintronic computing system. This research will continue in the interdisciplinary NanoSpin Compute research lab that he directs at UT Dallas.
This work was supported by Girdhar's Beckman Graduate Fellowship. The research was published on June 5th in the journal Nature Communications.