Researchers at MIT are investigating the mechanical properties of a sulfide-based solid electrolyte material in order to determine if these properties could be incorporated into batteries to make them last longer and be safer.
Traditional batteries are made up of two solid, electrochemically active layers (electrodes) separated by a polymer membrane infused with a liquid or gel. All-solid-state batteries replace the liquid with a solid electrolyte, which would remove the potentially flammable liquid, enhancing safety, but also increasing the batteries' energy density.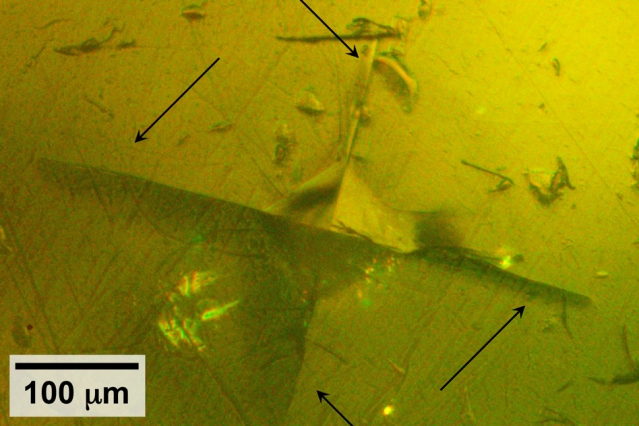 MIT researchers tested a piece of sulfide-based material for possible use in batteries. Cracks seen forming in the material (indicated by arrows), reveal details of its mechanical properties. Source: MIT Lithium-ion batteries are in just about every high-tech device sold today — from smartphones and tablets, to electric cars and hybrids, to lawn mowers and skateboards and much more — but they have been proven to have problems with overheating, short-circuiting and catching fire in extreme cases, leading to both personal and property damage.
Replacing the liquid component with a solid electrolyte could virtually eliminate the risk of tiny, fingerlike metallic projections — called dendrites — that can grow through the electrolyte layer and lead to short circuits. In traditional batteries, lithium ions pass through a liquid electrolyte to get from one electrode to the other while the battery is being charged, and then flow through in the opposite direction as it is being used.
"So if the electrolyte was solid, it could be safer, as well as smaller and lighter," says Krystyn Van Vliet, professor of materials science and engineering at MIT.
Stress Under Pressure
One issue with all-solid batteries is how the mechanical stresses of the electrolyte material will operate as the electrodes charge and discharge repeatedly. This repeated passing causes the electrodes to swell and contract as the lithium ions pass in and out of their crystal structure. If the structure is too stiff, it can lead to high stress. If too brittle, it could lead to cracks that rapidly degrade the battery performance and could even provide channels for damaging dendrites to form.
While testing, MIT researchers found that the sulfide electrolyte was extremely sensitive to normal lab air and presented challenges as to measuring the mechanical properties including fracture toughness. The researchers were able to mechanically test the electrolyte in a bath of mineral oil, protecting the sample from any chemical interactions with air or moisture, allowing them to obtain detailed measurements of the mechanical properties of the lithium-conducting sulfide.
The results of the test found that the material has a combination of properties similar to silly putty or salt water taffy, in that when stress is applied it can deform easily, but at higher stress levels it can crack. Knowing this allows researchers to calculate how much stress the material can tolerate before it fractures, allowing the batteries to be designed in such a way to avoid this cracking. Even if the material turns out to be too brittle for battery use, it could still have potential for such usages if systems are designed accordingly, MIT says.