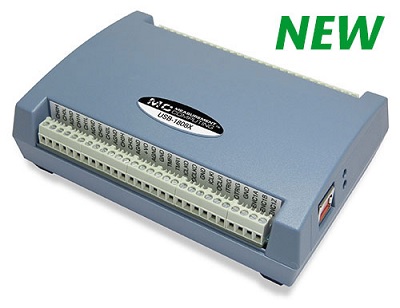 Image credit: Measurement Computing
Measurement Computing's USB-1808 Series data acquisition devices provide eight 18-bit simultaneous-sampling analog inputs that are software-selectable as differential or single ended.
The USB devices are available with sampling frequencies ranging from 50 kS/s to 200 kS/S per channel, feature two analog outputs, four digital I/O lines, two 32-bit counter inputs, two quadrature encoder inputs and two timer outputs. It is also available as a board-only OEM module with a header for signal inputs and outputs.
The high-speed devices are able to simultaneously read analog, digital, counter and encoder inputs, and generate up to two analog outputs and one digital pattern output without compromising signal conversion rates.