The MCR-4TC Graphing Thermocouple Logger from TandD, supplied by CAS DataLoggers, can log temperature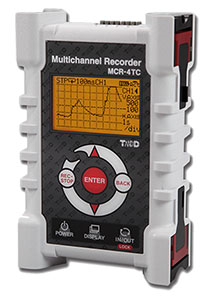 The 4-channel temperature data logger operates standalone on battery powerdata on four channels. The logger supports thermocouple Type J,K,R,S, and T, providing for an extremely wide measurement range from -270°C to +1760°C (-454°F to 3200°F).
The temperature data logger operates standalone on battery power and can couple with up to three additional units to allow for up to 16 synchronized channels. Trend graphs and battery level are displayed, and voltage can also be measured by coupling the unit with TandD's compatible MCR-4V Voltage Data Logger. A large-capacity internal memory and auto data export to SD card allow extended recording.
The trend graphing feature lets users check data in real-time on the logger's LCD display while in the field. Users can quickly transfer recorded temperature data to a PC using the logger's USB connection, or with an optional SD Flash Memory card.
Users can select between Immediate or Programmed Start and choose to record in °C or °F. The data logger is battery-operated on 2 AA alkaline batteries so users can measure and record even when electricity is unavailable.
T&D Graph software is included with MCR series loggers and allows users to read large numbers of recorded data files in the same graph.
Applications Include:
Temperature management of refrigerated/frozen foods
Recording temperatures in pipes and ducts
HVAC system verification
Monitoring boiler temperatures
Recording temperature in hospitals