The active aviation light management solution developed by Vestas (Aarhus, Denmark) for wind turbines is now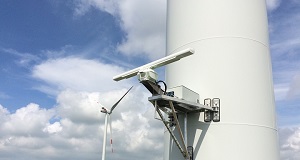 InteliLight® combines aircraft detection and aviation light control. ready for use in the U.S. InteliLight® has demonstrated performance to U.S. Federal Aviation Administration standards and has already received authority approval in Canada, Finland, Germany, Norway and Sweden.
InteliLight® uses radars with a minimum range of 8 km to scan a wind farm's surrounding area for aircraft. The distance, speed and heading of approaching airplanes are tracked, and aviation lights on wind turbines are activated as needed. The lights are switched off once the aircraft has cleared the necessary designated space.
By combining aircraft detection and aviation light control, the system provides end-to-end aviation safety. Vestas InteliLight® is now the only Aircraft Detection Lighting System (ADLS) integrated directly into the turbine equipment and designed specifically for wind project application.