New 6600-5 series IEC outlets from Schurter Electronics (Luzern, Switzerland) are available with integrated light pipes. The outlets provide a space- and cost-saving solution for power distribution units used in data centers and other multi-distributed power applications.
Data centers are now under constant pressure to improve upon efficiency and reliability under growing regulatory requirements to reduce energy use and cost. The high density of servers in modern data centers requires the same compact design from a power distribution unit.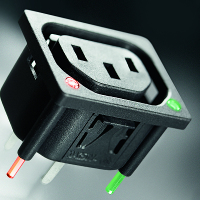 For these applications, the integrated light pipes provide space and assembly cost savings over conventional strip designs, where light emitting diodes (LEDs) are mounted in between outlets. Service technicians are able to clearly see which systems are working properly, or respond to required maintenance adjustments. The triggering of the LEDs is freely configurable; each state can be clearly and independently represented. An outlet could, for example, signal an outage with a red LED, or a critical power consumption pattern with a yellow LED.
Optionally, the 6600-5 is also available with only one or without any light pipes.

The new 6600-5 series offers a pull-out safety device to prevent against unintentional removal of the power cord. Depending on the arrangement of the outlets in the strip – horizontally or vertically – the Schurter V-Lock or cord retention systems with side latches can be used.

The outlet's snap arms are currently designed for front panel dimensions of 1.7 or 2.0 millimeters. Versions for 1.0, 1.5 and 2.5 millimeters are in development, as well as a 16 amp outlet with up to four light pipes.