The high-precision single sensor product family developed by Sentera (Minneapolis, MN) now includes equipment designed to improve spectral band separation and generate more accurate vegetation index measurements. The high-precision single sensor is available in two variants: normalized difference vegetation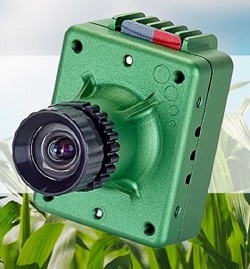 (Source: Sentera)index (NDVI) and normalized difference red edge (NDRE).
The new sensors can integrate with any drone, helping agronomists, consultants, and producers identify growth issues earlier and with greater precision. The sensors are available pre-installed on DJI Phantom 4, Mavic and Inspire equipment or as dealer-installed upgrades to customer-owned drones. Users can easily integrate satellite-based index data with drone-based index data. The high precision filters more closely match the spectral filtering used on most space-based imagers, but retain the same advantages in image resolution compared to satellites.
High-precision NDVI and NDRE single sensors collect the precise, narrow bands that agronomists, crop consultants, and growers rely on to help determine crop vigor. Sentera's filtering technology effectively rejects out-of-band leakage before it can contaminate the measurement and lead to error in vegetative index computation.