Absolut, the Pernod Ricard company, the maker of a wide range of alcoholic drinks including Absolut Vodka, is adding a shot of IoT to enhance the drinking experience. If you were to pour a drink into a glass, lights would change to match the cocktail and your favorite songs would begin to play, thus embellishing the ambience of the room, according to a recent demo at Stockholm.
New York-based start-up, 24eight is putting chips into diapers that send an SMS message to parents when they need to change their baby's diapers. Its other product, SmartSlippers is undergoing clinical trials where the toddler's booties are embedded with chips and if he/she were to fall down a signal is sent to immediately connect the person with emergency services.
Kolibree, claims to be the world's first connected toothbrush with the unique technology to analyse your brushing habits and display them on your mobile device. The data of how long you brush and whether you brush the hard-to-reach parts of your teeth and gums enables you to take control of the health of your teeth.
Such are the unique IoT applications and many more less extraordinary ones happening across the world. But in India, it's a different IoT game altogether.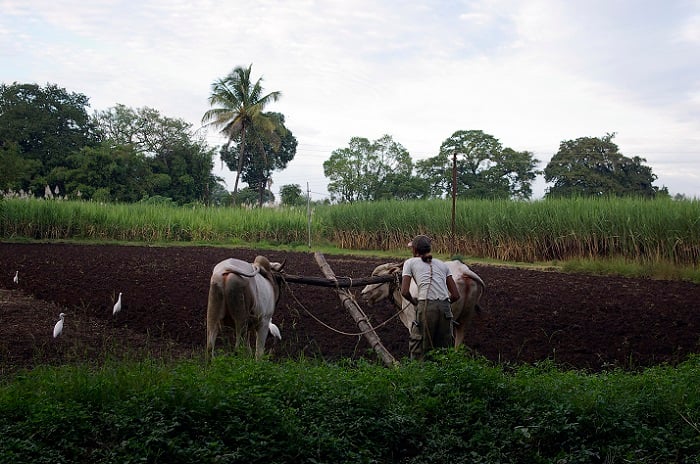 Global IoT solutions which are prevalent in the developed economies may not actually work in India.
No doubt there are the local health monitors and home automation IoT applications and devices, but more interestingly the agriculture domain is turning out to be the new frontier of technological innovation for IoT. Entrepreneurs and consumers are rallying to ideate and create devices and applications that would bring in a new level of efficiency and convenience in the Indian agricultural sector. Currently research is going on at various levels and entrepreneurs are prototyping several devices for "smart agriculture," but full-fledged IoT implementation has not yet happened.
According to the draft IoT policy document the Indian government plans to invest $15 billion in IoT by 2020. The policy states that among other things, IoT can help automate solutions to problems faced by various industries like agriculture, health services, energy, security, disaster management, etc., through remotely connected devices. This will also lead to an increase in the connected devices from around 200 million to over 2.7 billion by 2020.
According to the Gartner Report, the total revenue generated from the IoT industry would be $300 billion and the connected devices would be 27 billion by 2020 globally. It has been assumed that India would have a share of 5-6 percent of the global IoT industry.
Says M.N. Vidyashankar, president of India Electronics & Semiconductor Association (IESA), a premier body representing this industry, "What we are seeing happening in the agriculture sector (regarding IoT) is just the tip of the iceberg. With more than 50 percent of the Indian population still dependent on agriculture, there is a complete revamp of the farming techniques. We are seeing a wide range of IoT applications for local crop and water resource management, high-tech laser-assisted precision land levelling, soil and plant monitoring, tracking of temperature and humidity, etc."
On another hand, the National Association of Software and Services Companies (NASSCOM), trade association of Indian Information Technology (IT) companies has set up Centre of Excellence (CoE) for IoT on a public private partnership (PPP) model. "This is a joint initiative of Nasscom and the government of India to set up an IoT ecosystem and take advantage of the convergence of electronics and software. One of the focus areas is 'precision agriculture' and we are setting up five such centers in India. The one in Bangalore will be operational by February 2016," notes K.S. Viswanathan, vice president, industry initiatives, Nasscom, Bangalore.
Apart from these industry bodies, large multinationals such as GE, Accenture, Cisco and Intel are also increasing their IoT teams in India. GE and Accenture in particular are focusing on smart agriculture.
Today, according to Nasscom there are about 280 IoT start-ups, out of which about 40 are focusing on precision or smart agriculture.
"Today there is so much vibrancy in the agriculture sector that it has taken us by surprise. Earlier you would always co-relate automation with services in cities and metros, but today we are seeing a paradigm shift towards bettering the life of a rural farmer," adds Kumaran Venkatesh, vice president, strategy and operations, IESA.
Here are some interesting start-ups that have spurted up for the Indian farming community:
Smart route to detect pesticide spraying
A start-up by engineering students from Sri Shakthi Institute of Engineering and Technology in South India called Smart Pesticide has devised a solution where ultrasonic sensors are used to locate pests in the crop and sprinkle pesticides in a limited area using a drone. This solution alleviates the hazards of manual spraying of pesticides.
"According to World Health Organization, every year there are three million cases of pesticide poison and up to 220,000 deaths, primarily in developing countries. Children are particularly vulnerable and this solution helps mitigate this problem," says Jawahar, one of the students involved in developing Smart Pesticide.
Here's how it works. Ultrasonic sensors are placed in the farmland. These sensors record the sound produced by pests and transmit it to the connected computer system, which in turn sends data to the cloud. The sound produced by different pests are analysed and accordingly the cloud will guide the drone to spray pesticide.
Tracking crop management
Krishna Kumar, left his job at GE where he worked as a software engineer to set up a start-up, CropIn, which provides software solutions and analytics for crop management. This application tags crops and tracks their development till the harvest. The system, when fed with information pertaining to sowing time and seed type, provides crop development information at various stages of production.
"Whenever the field staff of food processing companies visits any farm they carry a smartphone loaded with the app. They feed crop-related information into the system, which in turn suggests the best practice for growing the respective crop. If temperature dips, for example, the system informs the corporation or the farmer about the safeguards," says Kumar, who graduated from Bangalore-based MS Ramaiah Institute of Technology. Today, CropIn is used by 40 companies, including Pepsico and Mahindra Agri, and benefits 100,000 farmers across 15 states.
Optical sensors to map crop health
The founder of another start-up, Nubesol, comes from yet another multinational background. Suraj Dixit left his job as a software architect at British Telecom in 2013 to start his firm that offers crop health-related information to corporations and large farmers. It uses satellite imagery to ascertain crop health or, say, vegetation index using optical sensors. This cloud-based software gives real-time information to the farmers. "If the vegetation index is low, the software helps find the deficiencies in the crop. The deficiencies could vary from lack of moisture to lack or excess of fertilisers and help farmers to take corrective steps before the situation worsens," explains Dixit.
Remote control of pump sets in rural India
This is a uniquely Indian problem dogging the rural farmer. Vinfinet, started by a group of engineering graduates from the Indian Institute of Technology (IIT) Madras, addresses this in a simple cost effective way with its product, Kisan Raja (loosely translated as "king of farmers"). "A farmer of a small landholding has to travel at odd hours, in the middle of the night to switch on and switch off the motors when the power comes on. The advantage of Kisan Raja is that these pump sets can be remotely controlled from wherever you are. This not only remotely protects the motors, but also reports fluctuations to ensure that the motor stays damage free," says Vijay Bhaskar, co-founder of Vinfinet.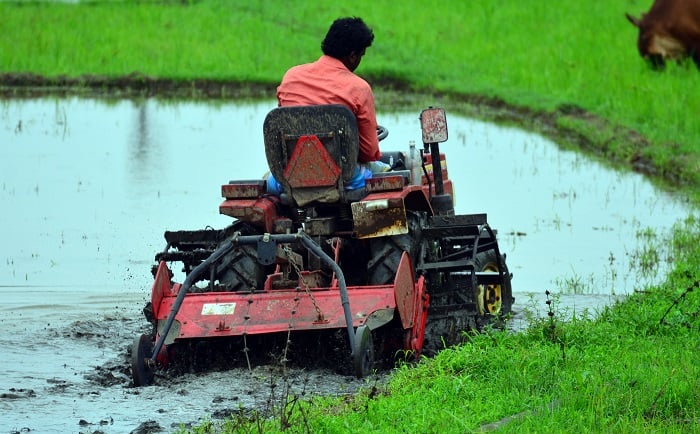 More than 80% of India's farmers are small and marginal and their costs of production are much higher, as against the wealthy farmers.
Conclusion
With various applications being developed, the industry bodies were caught by surprise when they started exploring this area – IoT in agriculture.
"When we first held a seminar on IoT in agriculture a few months ago, it was an eye-opener for us. We were seeing engineers who were earlier interested only in software services leaving multinational companies; graduates from premier colleges coming out with ideas involving IoT; and large multinationals themselves increasing IoT teams by 5 time in India. This spurred us to delve more in this space and work with partners in creating a viable ecosystem," notes IESA's Vidyanshankar.
It should be noted that more than 80 percent of India's farmers are small and marginal and their costs of production are much higher, as against the wealthy farmers. Hence, just importing global IoT solutions which are prevalent in the developed economies may not actually work here.
"For instance, although India is the second largest producer of fruits and vegetables in the world, it ranks tenth in terms of fruits and vegetables exports because it is able to export only 1 percent of the total production of fruits and vegetables. There are several cold storage management applications available across the globe, but they may not be suitable for the Indian conditions. We need to have local start-ups focusing on local problems and that's why an IoT ecosystem is crucial at this point of time," adds Nasscom's Viswanathan.