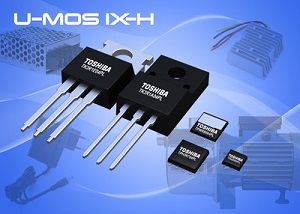 The new MOSFETs in the U-MOS IX-H series. Image credit: TAEC
Toshiba America Electronic Components, Inc. (TAEC) has expanded its U-MOS IX-H series of low-voltage N-channel power MOSFETs with new 40V and 45V products.
The MOSFETs feature low on-resistance and high speed for use in industrial and consumer applications such as DC-DC converters, AC-DC converters, power suppliers and motor drives.
The new MOSFETs output loss is improved by the reduction of output charge and the cell structures used in the devices are used to suppress spike voltage and ringing during switching. The U-MOS IX-H series is designed for synchronous rectification applications, including the secondary side of isolated switching power supplies.
The MOSFET series is available now.