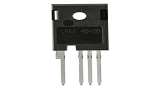 Wolfspeed has expanded its innovative C3M™platform through the introduction of a 1200V, 75 mΩ MOSFET in its recently released low-inductance discrete packaging. The device simplifies designs and enables an increase in frequency while maintaining efficiency, lowering system cost, reducing circuit EMI and enabling 99 percent efficiency levels in three-phase power factor correction circuits.
These features enable designers of applications such as telecom power supplies, elevators, grid-tied storage, on and offboard EV charging, as well as factory automation to increase switching frequency while maintaining efficiency, decreasing system size and bill of materials.
The device features Wolfspeed's third generation C3M planar MOSFET technology, which engineers have already designed into various automotive and industrial applications. It features low on-resistance (75mΩ) combined with a low gate charge, making it ideally suited for three-phase, bridgeless PFC topologies as well as AC-AC converters and chargers.
The newly released packages allow engineers to take full advantage of the high-frequency capability of the latest Wolfspeed™ SiC MOSFET chips. The 4L TO247 package delivers a 3x reduction in total switching losses compared to a conventional TO-247-3 package.
The 7L D2PAK surface-mount package, specifically designed for high-voltage MOSFETs, practically eliminates the source inductance found in other packages and has a footprint 52 percent smaller than D3PAKs. This is made possible by the small die size and high-blocking capability of C3M planar MOS technology.
Designers can reduce component-count by moving from silicon-based, three-level topologies to simpler two-level topologies made possible by the improved switching performance. These higher voltage SiC MOSFETs solve many of the limitations of silicon super-junction MOSFETs that make them impractical to use in two-level topologies. SiC has significantly lower output capacitance nonlinearity, making it possible to reduce the dead-time thereby minimizing total harmonic distortion at higher switching frequencies.
The MOSFET is available in a through-hole, 4L TO247 package and is listed as part number C3M0075120K and is currently available for purchase from distributors. The surface-mount version of this device, C3M0075120J, will be released in the coming weeks.