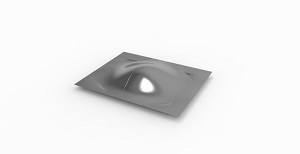 The quantum sensor. Source: RAM GroupSingapore electronics vendor RAM Group has introduced a quantum-state sensor that uses quantum mechanical properties to enable biometric authentication.
The new sensors use proprietary technology that the company claims is the first use of quantum cryptography integrated into sensors. The full body authentication (FBA) sensor holds promise to change how banks, mobile phones, supply chains and other transactions are conducted globally, RAM says.
The full-body biometric sensor not only identifies the individual but can also identify different cognitive states such as when a user is awake or asleep, focused or unfocused as well as detecting stress and anxiety levels. Because of this, RAM believes the sensor could be used in public safety applications such as shipping and trucking, public transportation and policing.
The authentication is based on a digital signature from the electromagnetic signals in the body, or the so-called bio key created from the signals that the new sensor can detect from any contact point on the body. The approach is a different way to traditional biometrics that involve fingerprints and could be a way to provide higher levels of security that are more resistant to hacking and identity theft.