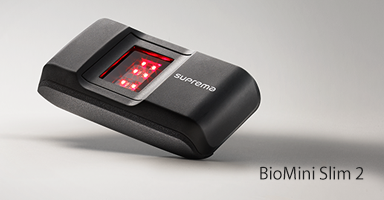 The BioMini Slim 2 fingerprint scanner. Source: Suprema
Suprema's BioMini Slim 2 fingerprint scanner has been integrated into IdentaZone's IdentaMaster/IdentaMaster Pro biometric matching system.
The system is claimed to be the first system designed for consumer and enterprise biometric use. It is an identity management and encryption with biometric authentication solutions compatible with and interoperable with a variety of biometric devices and technologies. The system works with a range of fingerprint scanners and now includes the BioMini Slim 2, a FAP20 scanner.
The fingerprint scanner is only 16 mm thick and includes a FAP20 optical sensor as well as Suprema's multi-dynamic range (MDR) technology, FBI PIV/FIPS 201/Mobiel ID FAP20 compliance, full-speed USB 2.0 interface and Android device support.