Autonomous vehicle technology is a rapidly developing area of automotive engineering, deploying multiple new sensors, systems, and features to the vehicle. Devising test and validation processes for autonomous driving in highly variable and complex environments will require fresh ideas and innovative methodologies.
More than 30 companies worldwide are working on autonomous-vehicle technology. These companies range from computing-technology firms like Apple, Google and Intel to those usually associated with automobile manufacturing, such as BMW, Ford, Honda and Volvo. In as few as three to five years, fully autonomous vehicles — automobiles without human drivers — may be in regular use on the road.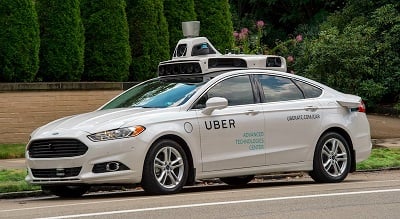 (Source: Uber)
Predictions vary about whether fully autonomous vehicles, Level 5 on the SAE International classification scale for autonomous-vehicle technology, will be introduced first. Yet, given the number of companies working to make improvements and the progress already made with Level 4 technology — which marks the stage when vehicles are classified as being capable of safely driving themselves in predictable spaces — it is highly possible that the technology will progress to Level 5 in the near-term.
Where jobs in the automotive field were once exclusively tied to Detroit, the mushrooming importance of software to mobility has seen employment opportunities migrate west as established automakers such as Ford Motor and Mercedes-Benz boost their ranks in Silicon Valley.
Interested in breaking into the emerging self-driving car industry? A new online course could give you the tools necessary to train automobiles how to drive themselves. Udacity's Self-Driving Car Engineer Nanodegree requires students to have experience in Python "or another scripting language," according to the course Website. A background in probability, statistics, and calculus is also necessary. The coursework, which will take a year to complete, includes interactive projects in "computer vision, robotic controls, localization, path planning, and more."
Resources for inspiration include tutorials on building your own Android-powered self-driving remote-controlled car, assembling an Arduino-powered autonomous car and the Berkeley Autonomous Race Car development platform.
A PhD will serve you well, according to Paysa, a site that uses machine learning to provide salary information and career success insights for both job seekers and businesses. More than 50 percent of those hired in the self-driving car space had that advanced degree. Only 27 percent were hired with just a master's degree, and 15 percent with a bachelors only.