Technology giant Intel is on the road to fast-tracking the development of fully autonomous consumer vehicles within the next two years. During his keynote address at the LA Auto Show's Automobility conference, Intel CEO Brian Krzanich announced that Intel Capital will additionally invest more than $250 million into the development of autonomous vehicle technology.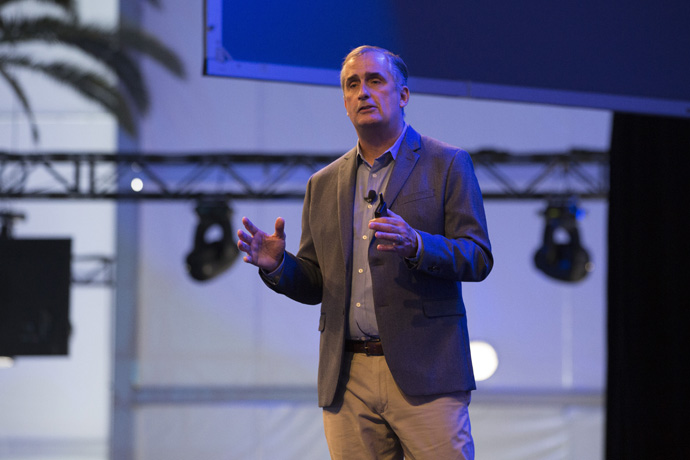 Intel CEO Brian Krzanich delivers the keynote at LA Auto Show's Automobility conference. / Credit: Intel Corporation
Fueling Disruption
The automotive industry is on the cusp of a major disruption, with the potential for unprecedented levels of computing, intelligence and Internet of Things connectivity embedded in a vehicle's systems. Intel technology can help autonomous vehicles process the vast quantities of data that will come from a vehicle's sensors, sonar systems, GPS, Lidar and cameras each day. These GPU-based advancements could improve an autonomous vehicle's context awareness, communication, deep learning, security and connectivity to achieve better safety, mobility and efficiency.
"Data is the new oil"
Krzanich went so far as to call data "the new oil," noting that each autonomous vehicle will generate 4 terabytes of data each day, the equivalent of the knowledge of 3 billion people.

"Just as oil has transformed our world over the last century, data is poised to transform our world for the next hundred years – and beyond," he said in his keynote.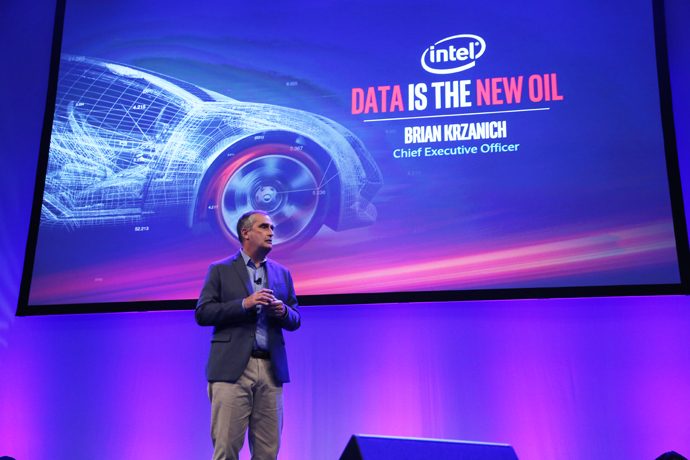 Krzanich asserts that the world of the future is powered by data. / Credit: Intel Corporation With an infusion of both capital and expertise, Intel is prepared to help autonomous vehicle manufacturers tackle multiple challenges related to data management, processing and analysis, including:
the size of the data sets
the intelligence development cycle to process data
the security of the data.
No Stranger to Self-Driving Vehicles
The $250 million investment is by no means the chip-maker's first foray into the development of autonomous vehicle technology. This summer,
Intel announced a partnership with car manufacturer BMW and Mobileye
, an autonomous driving system provider based in Israel, with plans to release a fully autonomous vehicle by 2021.
This latest investment into the development of autonomous vehicle technology underscores the importance of this goal for Intel. Krzanich's speech at Automobility marked the first time the company has delivered the keynote at an automotive conference, further highlighting the significance of the market for Intel's future.