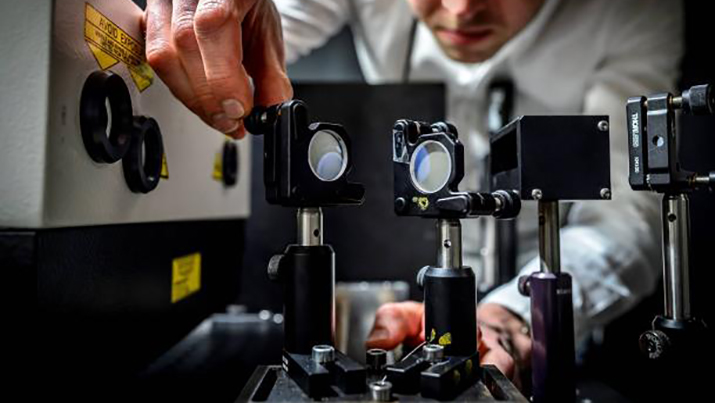 Researcher Elias Kristensson. Source: Kennet Ruona
A research group at Sweden's Lund University has developed an ultra-fast film camera capable of capturing rapid processes in chemistry, physics, biology and biomedicine that have never been caught on film before.

With a capture rate of 5 trillion images per second, the camera is based on an innovative algorithm that captures several coded images in one picture rather than one-by-one in sequence, as is typical of current high-speed cameras.

The technology has been dubbed FRAME, which stands for Frequency Recognition Algorithm for Multiple Exposures. Whatever subject is being filmed is exposed to light in the form of laser flashes, each one assigned a unique code. The flashes are reflected back from the subject, merged into a single photograph and subsequently separated into a video sequence, using an encryption key.

To illustrate, the researchers have successfully filmed light — a collection of photons — traveling a distance equal to the thickness of a sheet of paper. The journey takes a picosecond (one-trillionth of a second); on film, the process has been slowed down by a trillion times.

According to researcher Elias Kristensson, the technology could be employed to photograph extremely short processes, such as explosions, plasma flashes, turbulent combustion, brain activity in animals and chemical reactions.

Kristensson and colleague Andreas Ehn have focused much of their study on combustion, which is controlled by multiple ultra-fast processes at the molecular level. By studying the chemistry of plasma discharges, quantum states in combustion environments and biological tissue, and the way in which chemical reactions are initiated, the researchers ultimately hope to make next-generation car engines, gas turbines and boilers cleaner and more fuel-efficient.