Studying the role of oxygen in fuel combustion and atmospheric chemistry could lead to improved vehicular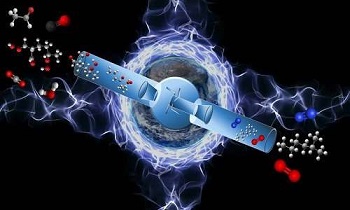 A representative fuel molecule showing oxygen molecules (right, red) and 2-methylheptane (right, grey and white) meet in a jet-stirred reactor. The highly oxygenated molecules that result (left) are detected by advanced mass spectrometry. Source: Zhandong Wang engine performance and reduced air pollution. An assessment of auto-oxidation products was recently completed by researchers from King Abdullah University of Science and Technology.
The team used a jet-stirred reactor coupled with synchrotron radiation photoionization and molecular-beam mass spectrometry, and a high-resolution atmospheric-pressure chemical-ionization mass spectrometer to analyze combustion auto-oxidation products.
Current theoretical models of combustion chemistry assume one, or possibly two, oxygen molecules can attach to a fuel molecule during auto-oxidation. The study reveals at least three sequential oxygen-addition reactions, and possibly more, can occur.
The researchers report that auto-oxidation processes leading to auto-ignition are more complex than previously thought. Many large hydrocarbon and oxygenated fuels exhibit extensive auto-oxidation. Inclusion of these pathways in models profoundly alters simulation results.
Updating these models will enable more accurate simulation of fuel combustion and could potentially improve the performance of real engines. The researchers also hope to apply their findings to the development of models for atmospheric aerosol formation via volatile organic compound auto-oxidation, which could improve simulations to predict air pollution and global temperature.
The research is published in Proceedings of the National Academy of Sciences.