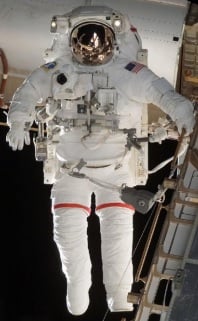 The NASA EMU spacesuit outside of the ISS. Image credit: NASA
NASA has conducted an audit of the spacesuits used by astronauts, known as Extravehicular Mobility Units (EMU), to venture into the harsh environments of space. The organization found that only 11 of the original 18 EMUs that were designed are still in use, raising concerns the inventory may not last through the planned retirement of the International Space Station (ISS).
The spacesuits have been in use for more than 40 years since the Gemini mission in 1965 and have far outlasted their original design of 15 years. NASA says it has spent more than $200 million maintaining the existing fleet of EMUs as well as investing in future suits designed for human exploration in deep space, including the Constellation Space Suit System for Mars, the Advanced Space Suit Project and the Orion Crew Survival System.
Despite this expense, the agency remains years away from having a flight-ready spacesuit capable of replacing the EMU or suitable for use on future exploration missions. Because there are no specific destinations for future missions assigned and because different missions call for different designs, this has complicated spacesuit development. The problem is exacerbated by the agency cutting funding for spacesuit development in favor of other priorities such as in-space habitat, the audit says.
The audit believes NASA will be hard pressed to meet the needs to continue to support ISS with its current fleet of EMUs through 2024, a problem that will escalate significantly if the ISS operations are extended to 2028.
The NASA audit questions the move to continue to fund the Constellation program after cancellation since a parallel development was being conducted by the Advanced Exploration Systems Division. Yet, NASA paid contractors $80.8 million between 2011 and 2016, despite calls to cancel the contract in 2011 by Johnson Space Center officials.
Given the current schedule of the new spacesuits, NASA says it doubts a next-generation spacesuit prototype will be available in time to test it on the ISS prior to 2024.
To learn more about NASA's spacesuit audit, visit: https://oig.nasa.gov/audits/reports/FY17/IG-17-018.pdf