The 2017 Soundstream portfolio of mobile and audio video products is expanding, and the lineup continues to arrive at dealer showrooms. Several products are already shipping under the Epsilon Electronics Inc. corporate umbrella and many more are due to ship by the end of this month.
Among these offerings is a new patent-pending dual-screen source unit that allows for the top screen to be used for GPS while the lower screen can be used for other functions such as an AM/FM receiver. Concurrent operating systems running simultaneously allow the user to operate the two different platforms on the VRN-DD7HBA.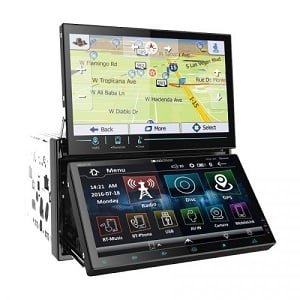 The VRN-DD7HBA features 2-DIN GPS navigation, DVD, CD/MP3, AM/FM receiver w/ dual 7-in. LCD touch screens, Android phone link and Bluetooth 4.0.
Also expected to ship by the end of April 2017 are products from the Soundstream Marine Line. These include Marine Line coaxial speakers—MCS.65 and MCS.80 and MCS-10—available in both black and white in 6.5 in., 8 in. and 10 in. versions.
The MSW.102/104 Soundstream Marine Line Subwoofers are also available in gloss white and black and feature 600w MAX Power, 300w RMS Power and 4.5-in. mounting depth.
Tarantula Nano Amplifiers—TN4-1200D, TN1-2000D, TN1-3000D—are new for 2017 and available in 1200W, 2000W and 3000W Max Power.
New additions to the Stealth Amplifier Series include ST11000D, ST2.1000D, ST3.1000D and ST4.1200D featuring a 550w 2-channel, 500w 3-channel, 600w 4-channel and a 500w mono-block.
The Tarantula Series Subwoofers series has expanded to include T5.102, T5.104, T5.124 and T5.154 units, which range from 1800w–2600w MAX power and 900-1300w RMS power. Mounting depth ranges from 6.25 in.–9.25 in.
The R.122 and R.124 next generation Reference Series subwoofers are a worthy successor to the Reference heritage and name and have been redesigned to reflect a more streamlined, classic design.