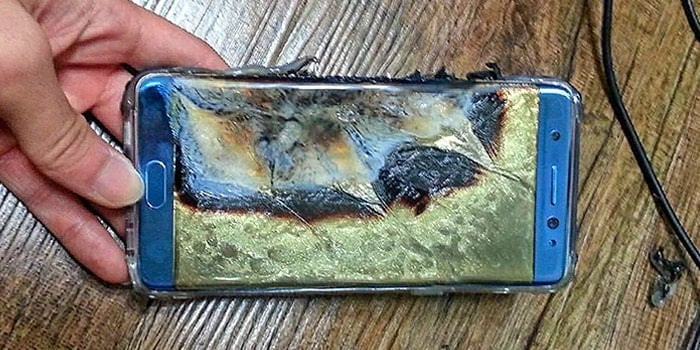 Phone after Li-ion battery malfunction. Image credit: Iphonedigital / CC BY SA 2.0In my previous life as a quality engineer for a major battery manufacturer we never used the word explode. I believe 'rapidly disassemble' was the preferred term, and luckily none of the batteries I saw ever did. I was not however working with lithium-ion batteries but instead with the tamer alkaline version. One of the things that kept our batteries from ex…I mean rapidly dissembling was the built-in safety features that we routinely tested.
Lithium-ion batteries have a lot in common with most other types of batteries. Fundamentally, batteries are a controlled chemical reaction, and in some ways the same could be said for a rocket engine.
A lithium-ion (and alkaline) battery is a chemical reaction where the anode and the cathode are separated by a thin layer with an electrolyte between them. The chemicals that make up the anode and cathode are usually quite reactive and if the two were simply mixed, a lot of heat and gas would be generated. Gases that cannot escape can become a problem. The electrolyte that separates the anode and cathode is what controls this chemical reaction, and by controlling the reaction it allows electricity to be drawn from the system.
Not all batteries are created equal; different chemistries inherently have different amounts of available energy. The thickness of the electrolyte area plays a big role, in that the closer the two reactive chemicals are the more current that can be achieved, and the more active material can fit in the same space. In many batteries, lithium-ion included, the electrolyte is a liquid but the two sides are kept physically separate by a porous material with the liquid electrolyte soaked into it. Thinner electrolyte areas come at a trade off with increased risk of failure, because if the two sides are able to touch heat and gasses are generated, which when contained is what causes an explosion. (I mean, um...let's say 'sudden deconstruction.')
Many batteries have built-in safety features, but not all do. In some cases the safety features may be to ensure the separation of the two chemical sides, in other cases it may be to relieve pressure before it becomes an issue. Lithium-ion batteries are sealed and before a problem occurs they will start to outgas and bulge, indicating that a problem may be imminent. Safety features come at a cost, both in manufacturing and in a loss to battery capacity, so some manufacturers may not use them. The safety features in a lithium-ion battery are usually built into the porous separator. The separator can be made from a few materials but the most common are ceramic and various plastics. One example of a safety feature in Li-ion batteries is the use of a separator material that melts when it gets too hot, thus closing the pores and stopping the reaction.
One cause of battery failure is contaminates. As batteries are chemical reactions small particles that don't belong within will cause malfunctions. These particles of foreign material can come from the chemical supplier or during the manufacturing process, such as shavings of metal from the equipment that makes them. For these reasons the quality process that looks for flaws is critical. In the battery industry it is common to test samples of batteries off the line and expose them to various mistreatment, such as high heat and high current draw. Another common technique used is to age batteries before they are sold to ensure no hidden flaws are found. Typically, if a flaw is found, batteries are held or aged longer to establish the nature and timing of the flaw.
Lithium-ion batteries have a higher risk of having an uncontrolled reaction than most. For one, the chemistries involved are more volatile than other battery types. The second reason is that lithium-ion batteries are built such that the anode and cathode are in large flat areas with electrolyte and separator between them. More surface area between the two sides increases the chances for a failure. When a lithium-ion battery fails it usually starts at just one spot. The failure is most often a failure of the separator where too much can flow between the two sides. Once a failure point occurs in a spot it generates a lot of heat and that causes more failures to happen in a chain reaction called thermal runaway.
The original reason for a battery failure can be one of many. Some of those reasons include manufacturing defects and poor design, but many others may simply be how the battery is cared for or what conditions it is used in.
This is the trade-off, because the design of lithium-ion batteries provides us with ample energy and current for our devices. Yet as new devices are developed, they need more powerful batteries that fit in smaller areas. Some designs are waterproof, which means less heat dissipation, which may also cause issues. The danger of our power source isn't a new one, for automobiles many fires have happened due to the volatility of gasoline.
Just like a rocket engine will explode if the reaction isn't perfectly controlled, a battery can do the same, and in both cases lives have been lost. As technology advances it is an unfortunate truth, but one that taking the correct precautions in manufacturing and care in use can help prevent.