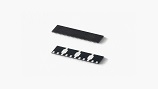 Littelfuse, Inc.
has introduced a series of TVS Diode Arrays (SPA® Diodes) designed to provide eight channels of ultra-low capacitance common mode and differential mode protection for electronic equipment exposed to electrostatic discharges (ESD). SP8008 Series Low Capacitance TVS Diode Arrays offer the robustness necessary to protect against ESD events exceeding the IEC 61000-4-2 contact ESD level of ±8 kV without any performance degradation.
The diode arrays' extremely low loading capacitance (just 0.3 pF typ.) also makes these components ideal for protecting high-speed signal pins such as V-by-One, Embedded DisplayPort, HDMI 1.0 through 2.1 and USB 2.0/3.0/3.1 without sacrificing signal integrity.
Typical applications for the SP8008 Series include high-speed interface protection for LCD/PDP TVs, LCD/LED monitors, notebook computers, ultrabooks, automotive displays, flat panel displays, digital signage, HD cameras/projectors, and USB and HDMI interfaces.

SP8008 Series TVS Diode Arrays are available in surface mount µDFN-14 packages in tape and reel format in quantities of 3,000.