Littelfuse, Inc., has introduced a series of low capacitance TVS diode arrays optimized to protect electronic equipment that may experience destructive electrostatic discharges (ESDs). SP814x Series TVS Diode Arrays (SPA® Diodes) integrate four or six channels of ultra-low-capacitance rail-to-rail diodes and an additional zener diode to safely absorb repetitive ESD strikes above the maximum level specified in the IEC61000-4-2 international standard (±8kV contact discharge) without performance degradation. Their extremely low loading capacitance (1.0 pF typ. per I/O), lower series resistance than semiconductor-based devices, and fast response also makes them ideal for protecting electronics with high speed signal pins, such as HDMI2.0, USB3.0, USB2.0 and IEEE1394.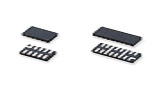 SP814x Series TVS Diode Arrays. Source: Littelfuse
Low leakage current (25 nA typical at 5V) extends battery life and preserves signal integrity because excessive leakage can be seen as additive capacitance for a high-speed differential pair. Enhanced ESD capability (±22 kV contact, ±22 kV air) permits manufacturers to achieve ESD protection beyond the maximum level stated in the IEC standard and protects against a multitude of other threats to ensure product reliability in the field.
Applications for the SP814x Series include LCD/PDP TVs, external storage, DVD/Blue-Ray players, desktops/servers, notebooks/tablets, set-top boxes, mobile phones, flash memory cards and digital cameras.

The SP814x Series is provided in tape and reel format in quantities of 3,000.