How would you like to be able to wirelessly charge your laptop or smartphone just by walking into a room? What once seemed unbelievable, is now possible.
Scientists at Disney Research have successfully demonstrated a method they call quasistatic cavity resonance (QSCR) that enables electronic devices to be charged without cords, cradles or other external devices.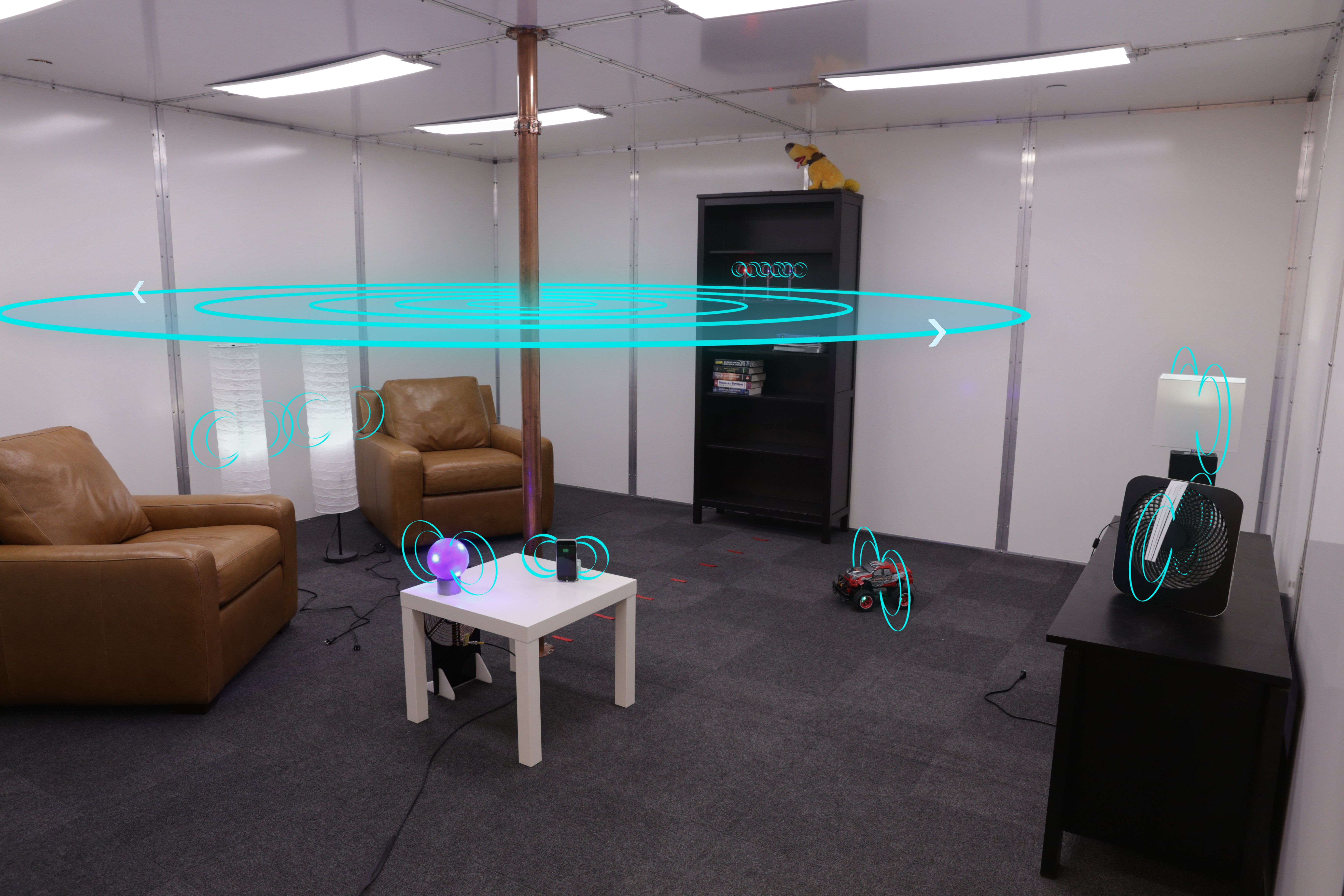 Power delivery system enables wireless charging of any electronic device throughout a room. Credit: Disney Research As researchers point out, advances in wireless communication technologies have led to widespread deployment of Wi-Fi hotspots, allowing users of mobile devices to connect to their homes, offices or favorite social media sites from just about anywhere. In contrast, wireless power delivery has not benefited from the same technological advances. Power applications in robotics, medical implants and consumer electronics are still limited to near-contact transfer distances.
To address the issue, Disney researchers developed their QSCR technology that allows purpose-built structures, such as cabinets, rooms and warehouses, to generate quasistatic magnetic fields that safely deliver kilowatts of power to mobile receivers contained nearly anywhere within.
As explained in this video, QSCR involves inducing electrical currents in the metalized walls, floor and ceiling of a room, which in turn generate uniform magnetic fields that permeate the room's interior. This enables power to be transmitted efficiently to receiving coils that operate at the same resonant frequency as the magnetic fields.
The induced currents in the structure are channeled through discrete capacitors, which isolate potentially harmful electrical fields, researchers said.
"Our simulations show we can transmit 1.9 kilowatts of power while meeting federal safety guidelines," said Disney researcher Matthew Chabalko. "This is equivalent to simultaneously charging 320 smart phones."
To demonstrate the technology, researchers built a 16' x 16' room in their lab. They safely generated near-field standing magnetic waves that filled the interior of the room, making it possible to power several cellphones, fans and lights simultaneously.
"This new innovative method will make it possible for electrical power to become as ubiquitous as Wi-Fi," said Alanson Sample, associate lab director & principal research scientist at Disney Research. "This in turn could enable new applications for robots and other small mobile devices by eliminating the need to replace batteries and wires for charging."
While the demonstration room was specially designed, it likely will be possible to reduce the need for metalized walls, ceilings and floors in the future, Sample said. For instance, existing structures possibly could be retrofitted with modular panels or conductive paint. Larger spaces might be accommodated by using multiple copper poles.