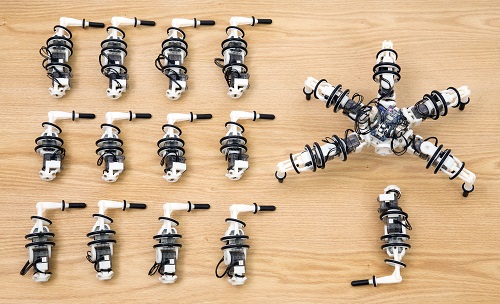 Snapbot can contain up to six legs and either row, crawl or walk. Source: Disney ResearchWhen it comes to robotics, the ability to mix and match various parts is difficult because each part is typically designed for an individual purpose.
However, Disney Research has developed a reconfigurable legged robot called Snapbot that produces various types of locomotion depending upon its configuration. The body of the robot contains a microcontroller and a battery for untethered operation. The body also contains connections for communication and power to the reconfigurable legs.
The legs can be attached to or detached from the body using magnetic mechanical couplings. In this coupling, a multi-pin spring-loaded electrical connector distributes power and transmits data between the controller and leg actuators. An algorithm enables the six different legs to be recognized and identifies the configuration changes and then selects the proper locomotion method.
Each leg can either be used for yaw-pitch or roll-pitch with two degrees of freedom as well as yaw-roll-pitch with three degrees of freedom. With different combinations of legs, Snapbot can be configured into 700 forms. Depending on the configuration, the Snapbot can produce motion via rowing or crawling. With enough legs attached, the robot can walk.
Disney Research says it will utilize Snapbot to further research legged locomotion.