As unmanned aerial vehicles (UAVs) become more popular for both consumer use and for use as a scientific tool to garner new footage and insight into wildlife and the environment, concerns are being raised that these drones may be unintentionally causing harm to animals, specifically marine mammals.
Researchers at Murdoch University's Cetacean Research Unit in Australia are studying how drones impact the lives of whales and dolphins, both of which are very sensitive to human-made noise because they rely heavily on acoustics for communication, hunting and navigation.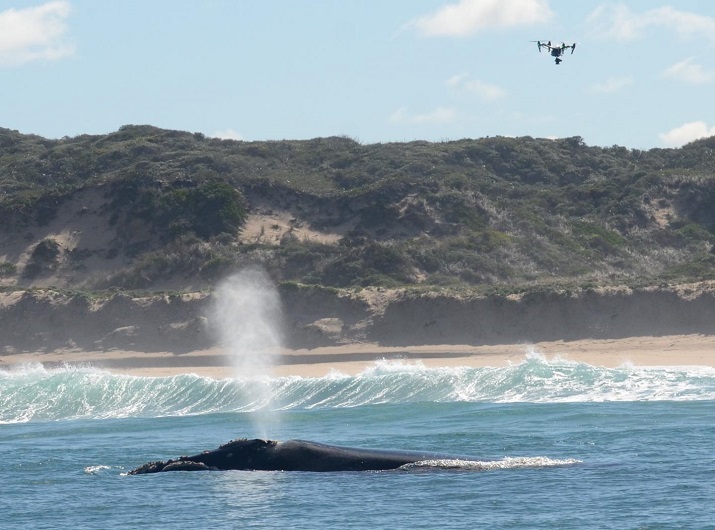 How dolphins and whales react to the noise of drones is being studied to determine that they are not impacting these mammals negatively. Source: Murdoch University Researchers say it is important to know whether the instruments being used to document the lives of these biological animals is impacting them negatively. The study involved measuring how well drone sounds carried into water and they did this by suspending an underwater microphone one meter below the ocean's surface. The team then flew two different types of multirotor UAVs at varied heights over water and monitored how much noise was detectable under the surface.
The good news is that they found that sounds from UAVs don't travel very well from the air into the water and whatever noise was made became very close to background noise level in shallow water habitats. Researchers also compared the recorded noise levels to the known hearing thresholds of dolphins and whales and found that for the majority of these mammals, drones were below these thresholds.
With the use of UAVs only set to increase in the research and public space, more animals are likely to be exposed to both the sound and visual presence of drones. Because of this, studies will continue to be needed to determine if drones are safe to use with different types of wildlife, researchers said.
"Wildlife research is carried out under very strict permits and we hope that our research will help guide the regulators who evaluate permit applications to ensure that we understand what may or may not have an effect on these animals," said Lars Bejder, who leads Murdoch University's Cetacean Research Unit.