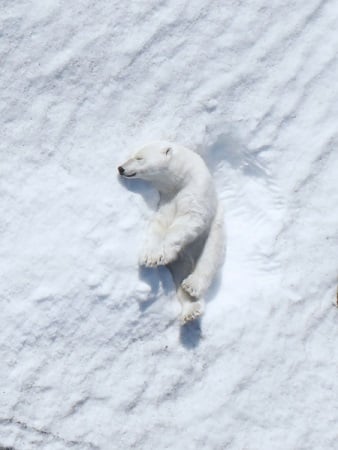 A polar bear, sleeping on a blanket of snow, can easily be found by a drone flying above. Source: Intel Corporation.
What can artificial intelligence and drones bring to wildlife research? According to Intel, quite a bit. The company recently announced the completion of two expeditions that drew heavily on those technologies—which Intel says enable "safer, smarter, more efficient and less invasive" research.
Polar Bears
Traditional research methods for studying polar bear populations are challenging, as helicopter exploration is both invasive and costly and ship exploration is made difficult by the treacherous arctic weather. Intel used its Falcon 8+ drone system to help wildlife photographer and conservationist Ole Jørgen Liodden track polar bear communities and capture information about their behavior patterns.
Intel notes that the polar bears, "did not show any signs of distress or changes in behavior" when the drone was flown at a distance of approximately 50 to 100 m away. The device's thermal camera was used to spot the animals against the colder background.
"Polar bears are a symbol of the Arctic," said Liodden. "If they become extinct, there will be challenges with our entire ecosystem. Drone technology can hopefully help us get ahead of these challenges to better understand our world and preserve the earth's environment."
Whales
The collaborative alliance Parley for the Oceans uses Intel machine learning technology to improve data analytics on its Parley SnotBot. That project uses modified drones to collect spout water from a variety of whale species around the world in order to study whale snot—a rich source of biological data, including DNA, stress and pregnancy hormones, viruses, bacteria and toxins. By incorporating AI algorithms, individual whales can be identified and assessed for health in real time, despite the presence of confounding factors like unpredictable movements and limited ocean visibility. This helps researchers to make more timely decisions in the field. The data collected is also open-source.
"Our vision is to create a global network of digital exploration tools, which generate the big data we need to identify threats with new speed and precision, so we can act on them instantly," noted Cyrill Gutsch, Parley for the Oceans founder.