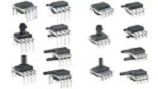 Honeywell's RSC Series TruStability board mount pressure sensors measure low airflow with high accuracy. With a small footprint that occupies less area on a printed circuit board, the sensors reduce overall system size to allow easier fit and potentially reduce production costs.
The piezoresistive silicon pressure sensors exhibit a total error band as low as 0.25 percent full scale, power consumption under 10 milliwatts, and measurement accuracy of ±0.1 percent full scale. Pressure ranges from ±1.6 millibars to ±10 bars, ±160 pascal to ±1 megapascal, ±0.5 inch of water to 150 pounds per square inch, absolute range 1 bar to 8 bars, and 15 to 150 pounds per square inch. The sensors measure 10 by 12.5 millimeters, or 0.39 by 0.49 inches.
The combination of high measurement accuracy and design flexibility suit the sensor ideal for various applications, including:
Breathing airflow in medical systems such as ventilators, affording precise control of ventilator trigger points and providing an accurate baseline for lung volume measurement and flexible sensor applications in both adult and pediatric devices.
Barometric pressure changes for drones or weather balloons to indicate altitude changes even at high altitudes and allowing for rapid altitude changes of the device.
Airflow in HVAC ducts for precise control of airflow set points, significantly reducing the frequency of shutting down ducts to measure sensor offset.