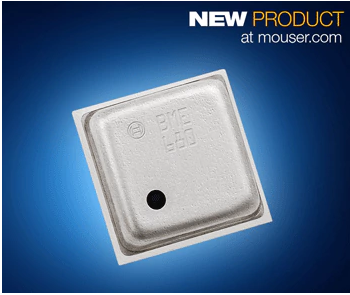 Source: Mouser
Mouser Electronics is now stocking the BME680 environmental sensor from Bosch Sensortec. The BME680 delivers environmental measurement performance, made possible by the internal compensation and calibration of gas, pressure, temperature and humidity sensors. The sensor enables new capabilities for mobile devices like air quality, measurement, personalized weather stations, indoor navigation, fitness monitoring, home automation and other Internet of Things (IoT) applications.
The Bosch Sensortec ME680 environmental sensor is a low-power microelectromechanical system (MEMS) device that integrates a gas sensor with air pressure, humidity and ambient air temperature sensing functions. The gas sensor can detect a broad range of gases in order to measure indoor air. This includes volatile organic compounds (VOC)—from sources like paints, cleaning supplies, furnishings and adhesives—down to the parts-per-million (ppm) range.
The BME680's pressure accuracy provides precise altitude information. The fast response time for measurement of humidity and ambient temperature enables new applications like personalized weather information and air quality monitoring.
The BME680 has I²C and SPI communication interfaces, as well as three power modes, oversampling rates for pressure, and temperature measurements that can be configured separately in order to help designers easily adapt the BME680 to different applications. There is an integrated IIR filter that eliminates short-term measurement fluctuations caused by potential environmental influences.
To learn more about this product, visit the Mouser site here.