Honeywell Sensing and Control has released a new series of board-mount piezoresistive silicon pressure sensors designed to measure low airflows with high accuracy. The company positions the TruStability board-mount pressure sensors, RSC Series, as an enhanced-reliability offering designed to minimize system downtime and provide high accuracy to reduce the reliance on software to correct system inaccuracies.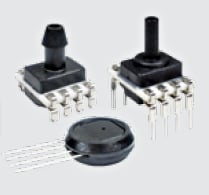 Devices in Honeywell's TruStability board-mount pressure sensors, RSC Series, measure small airflows with high accuracy—serving them well in medical equipment, drones and weather balloons, and HVAC equipment. Image source: Honeywell Sensing and Control. With a small 10 mm × 12.5 mm footprint that occupies minimal space on a printed circuit board, the sensors reduce overall system size to allow easier fit and potentially reduce production costs.
Honeywell says that high measurement accuracy and design flexibility of the RSC Series make the new pressure sensor ideal for a variety of applications and uses, including measuring:
• Breathing airflow in medical systems such as ventilators, affording precise control of ventilator trigger points and providing an accurate baseline for lung volume measurement and flexible sensor applications in both adult and pediatric devices
• Barometric pressure changes aboard drones or weather balloons to indicate altitude changes even at high altitudes and to allow for rapid altitude changes of the device
• Airflow in HVAC ducts for precise control of airflow set points, significantly reducing the frequency of shutting down ducts to measure sensor offset
Available in pressure ranges of ±1.6 mbar to ±10 bar, ±160 Pa to ±1 MPa, ±0.5 inH2O to 150 psi, and absolute ranges of 1 bar to 8 bar, and 15 psi to 150 psi, devices in the series offer measurement accuracy of ±0.1% full scale span best fit straight line and total error band as low as 0.25% full scale span. Highly energy efficient, the sensors consume less than 10 milliwatts.
According to Robert Robinson, senior product marketing manager at Honeywell Safety and Productivity Solutions, these new pressure sensors have a real-life impact: "Their accuracy and reliability could help make buildings more energy efficient by accurately measuring airflow across all HVAC systems. They can also enable healthcare providers to improve patient care and safety with more accurate readings of airflow in ventilators, including accurate calculations of lung volume, to determine how much air to supply to the patient."