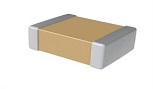 KEMET Corp.
  has introduced electrostatic discharge (ESD) rated ceramic capacitors, in small 0603 EIA case size (metric 1608), providing designers a choice of either X7R or C0G dielectric for circuits requiring Class-I or Class-II stability and noise performance. Automotive and commercial grades are available, and a special ordering code allows customers to obtain automotive-grade parts for their projects without submitting a drawing or specification.
X7R capacitance values from 1 nF to 220 nF (C0G from 1 nF to 15 nF), give designers flexibility to achieve their desired frequency response in RF filtering, decoupling, tuning or resonant circuits. The lower capacitance values are ideal for providing ESD protection at external ports such as USB 3.0, DisplayPort, HDMI, serial ports, audio jacks, and SIMs or memory cards. They also provide ESD protection for automotive modules such as infotainment equipment, airbag controllers or keyless entry systems, as well as industrial computers, video cameras, and test and measurement equipment.
These capacitors have up to 25 kV ESD-withstanding capability and pass AEC-Q200-002 HBM (human-body model) tests. Automotive-qualified devices additionally meet all other requirements of AEC-Q200. Voltage ratings from 25 to 200 volts are available, and devices can be specified with tolerance of ±5, ±10, or ±20 percent on capacitance value. C0G capacitors are also available with ±1 or 2 percent tolerance. The operating-temperature range of -55 to 125 degrees Celsius ensures high reliability in a wide range of applications and optional flexible terminations enhance robustness in designs exposed to extreme mechanical stresses or temperature cycling.