Vishay Intertechnology, Inc. has announced a series of Automotive Grade, radial-leaded multilayer ceramic chip capacitors (MLCCs) built for the most extreme automotive operating conditions. Vishay BCcomponents K…H series "HOTcap" devices combine an industry-high operating temperature of +175° C for all available ceramic dielectrics with a wide capacitance range from 100 pF to 1 µF and low capacitance tolerances as tight as ± 5%.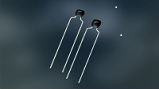 K…H series multilayer ceramic chip capacitors. Source: VishayTo accommodate the extremely harsh operating conditions of automotive applications, K…H series devices are equipped with an MLCC insert produced in a unique wet build process and featuring noble metal electrodes. AEC-Q200-qualified with PPAP available on request, the leaded MLCCs are more robust to mechanical stress and can withstand operating temperatures better than SMD parts, while saving space by eliminating the need for a PCB. This makes the devices ideal for EMI filtering in automotive applications such as exhaust gas and seat-position sensors, cable harnesses, and turbo charger, throttle valve and brake- system controls.
Featuring an ultra-stable C0G dielectric with a capacitance change of ± 30 ppm/K and an X0U dielectric that fulfills the X7R specification of ± 15% from -55 °C to +125 °C and ± 22% from -55° C to +175° C, the Ceramic Class 1 and 2 MLCCs offer straight or crimped leads with spacing of 2.5 mm and 5.0 mm. The devices' lead wires measure 0.5 mm or 0.6 mm and are constructed of 100% tinned copper-clad steel. Nickel wires are available upon request. The RoHS-compliant capacitors offer a coating made of flame-retardant epoxy resin in accordance with UL 94 V-0.