KEMET Corp.
 has introduced its advanced U2J Class-I ceramic dielectric capacitors. This U2J surface-mount platform offers more than twice the capacitance available in C0G/NP0. It also provides superior temperature performance over X7R, X8R and X5R, suiting it for many applications including telecom, data acquisition and the Internet of Things.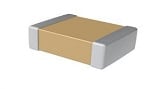 U2J Class-I ceramic dielectric capacitors. Source: Kemet
U2J capacitors are stable with a linear capacitance change with temperature, enabling design engineers to predict the change in capacitance over the operating temperature range. They also retain over 99% of nominal capacitance at full rated voltage and extend the available capacitance of Class-I dielectric MLCCs into a range previously available only in Class-II dielectrics. U2J capacitors are Pb-Free, RoHS- and REACH-compliant without exemptions.

U2J MLCCs are available now in commercial grade and with a flexible termination option.