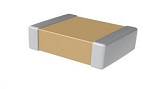 KEMET's C0G Ceramic capacitors. Source: Kemet
KEMET Corporation has introduced expanded versions of its commercial- and automotive-grade High Voltage C0G Ceramic capacitors to meet the needs of the growing Wide Band Gap semiconductor trend. KEMET is now offering case sizes 2824, 3040, 3640 and 4540 to increase capacitance up to 150 nF with voltages up to 2,000 V. With a low profile and aspect ratio, these devices exhibit low inductance and ESR versus frequency, allowing for very high ripple current capability.
As new inverter and DC/DC converter designs are pushing the limits of power density, voltage, current and frequency, these new capacitance ranges offer solutions to the new generation of power electronics used for alternative energy markets. KEMET's patented high-reliability base metal electrode (BME) dielectric system is 100% Pb-free, RoHS compliant and REACH compliant without exemptions. The capacitors meet AEC-Q200 requirements.