EasyCharge is looking to change the way recharging of electric vehicles is accomplished with a ceiling-mounted charging station that features a movable charging arm and light emitting diode (LED) industrial lighting.
EasyCharge's Leviamp technology allows for 180 degrees of positioning, meaning it can be used for any type of electric vehicle even though the charging dock may be in different locations on different models. When not in use, the arm retracts to the top position on the ceiling, folded away from being in the way of the vehicle or other objects around it.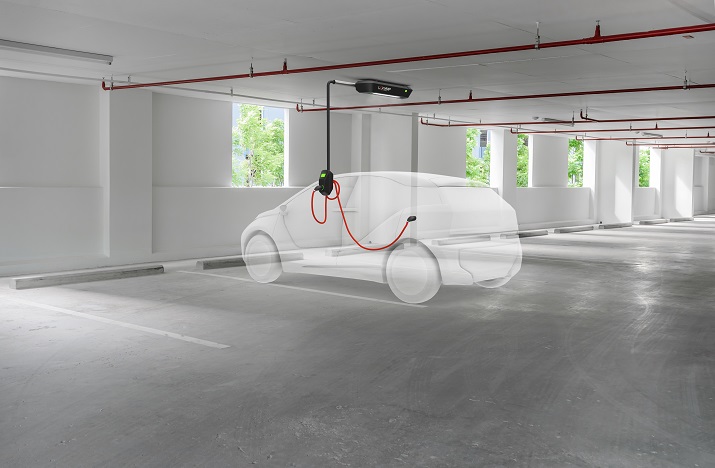 EasyCharge's Leviamp technology has a 180-degree charging arm and LED lighting for commercial and residential parking. Source: EasyCharge The company has recently partnered with RentaLite, an energy-saving research and development center, to include LED lighting in the Leviamp smart chargers. The companies believe this combination of technology could be used in residential homes, as well as in corporate and retail environments where electric car charging, parking and high performance lighting are all needed.
The combination lighting and charging system is installed in the ceiling of a parking garage, and includes all the standard features of modern smart electric vehicle (EV) charging stations, but with greater flexibility and an LED lamp that illuminates the area around it, EasyCharge says.
"Our mission is to help companies and private individuals to install affordable charging infrastructure and cut their CO2 emissions while accelerating a transition to sustainable means of transport," says Artur Sychov, CEO of EasyCharge. "We believe that this combo product will help them to overcome existing financial challenges and provide a way to quickly equip their garages with modern infrastructure."