Electric vehicle (EV) charging company Volta Inc. has expanded its collaboration with Walgreens to install 1,000 fast charging stalls at more than 500 drug stores in the U.S.
Volta's charging station strategy centers on installing stations where consumers live, shop, work and play. The company has been working with Walgreens since 2019 and has charging stations across 49 of its stores. The new deal would expand the number of charging stations by 10 times the current capacity.
Volta said this next phase will provide Walgreens customers with quick charging as well as a way for Walgreens to boost advertising as the Volta charging stations include large-format digital screens for reaching shoppers before or after they enter the store or when recharging an EV.
EV charging rising
New EV charging infrastructure is coming globally as demand for EVs increases. In fact, experts believe operators will increase charging infrastructure at a much higher rate than the demand for hydrocarbon fuels that grew steadily over the previous 120 years.
New EVs are coming due to the automotive industry's largest transition in its history, moving to electrified models primarily and moving away from traditional gasoline powered models by 2040. To meet this upcoming demand, more EV charging stations will not just be needed but will be critical for this transition to become a reality.
Globally by 2030, there will be 125 million to 220 million EVs on the roads. As such, EV charging installation is not just strategically important, it is necessary to the success of the transition to EVs.
The good news is that new charging stations are coming online quickly with traditional players starting to get involved such as Shell vowing to install 500,000 stations by 2025 and BP expanding charging points with a recent $7 million investment in IoTecha. BP plans to provide more than 70,000 EV charging points worldwide by 2030.
Additionally, the Biden Administration is not only planning to transition government vehicles to all-electric models, but it also intends to build more than 550,000 charging points to aid in the transition.
Growth in home charging
Meanwhile, EV charging at home is forecast to exceed $16 billion globally by 2026, up from $3.4 billion last year, according to new data from Juniper Research.
This equates to a growth of 390% over the next five years driven by the automotive sector's transition to electrified models.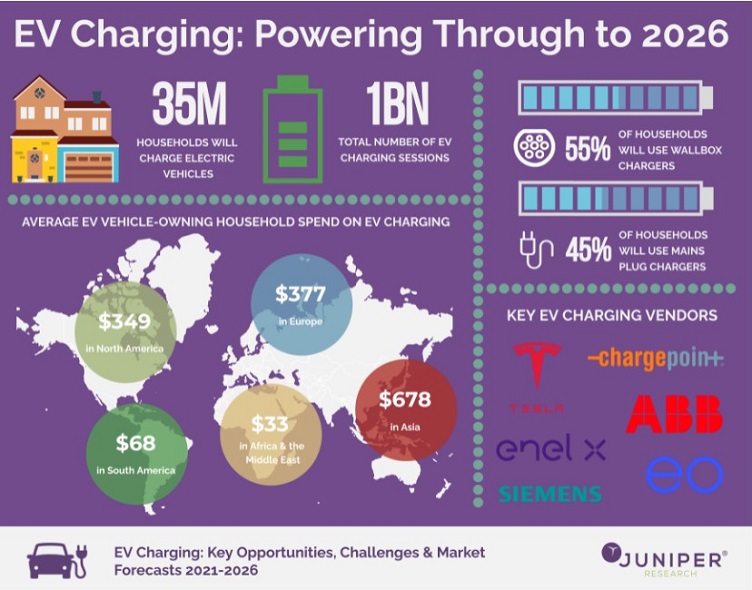 However, a lack of access to charging at home for urban residents could be a major issue moving forward as many consumers do not have access to off-street parking. Juniper said that charging vendors and automotive OEMs should work to make home charging central to the EV transition given the high costs of public charging networks and the issues of off-street parking.
Additionally, more than 21 million households will be charging EVs using a home wallbox by 2026, up from just 2 million in 2021.
"Home wallboxes are convenient and lower cost than alternatives, with the onus being on both car manufacturers and governments to support home charging roll-outs to secure the future of electric mobility," said Nick Maynard, researcher at Juniper.