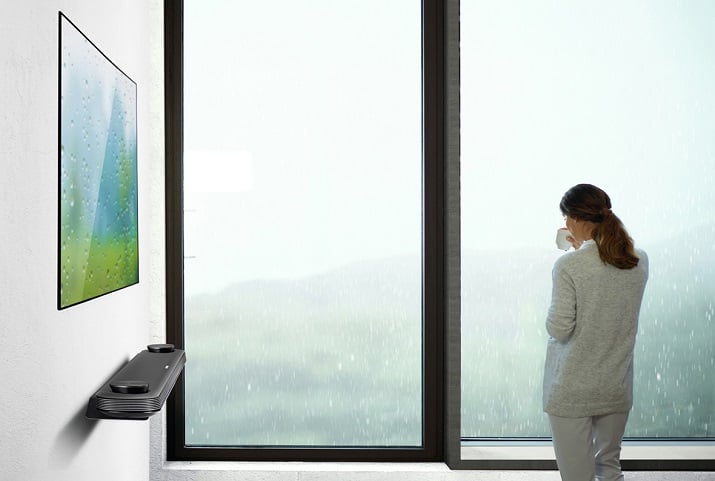 LG says the 77-inch OLED flagship television meshes to a wall because of its super-thin design. Source: LGOrganic light emitting diode (OLED) televisions have been coming to the CES trade show for a number of years, but after what some are calling OLED's most successful year in 2016, the number of TVs at this year's show were as plentiful as they were impressive.
OLED TVs are very different from LED or LCD TVs as every pixel of an OLED TV provides its own illumination and can be turned off and on individually. Because of this, they do not require a backlight like LED TVs do. This allows the technology to offer true black colors and striking resolution.
Other emerging technologies such as quantum dot light emitting diode (QLED) and ultra LED (ULED) TVs take picture quality to even a higher level but are still mostly in developmental or the super-early access phase. Of course, that didn't stop companies from showing them off at the trade show.
Here are some of the cool TVs that debuted at this week's 2017 CES.
LG's Wallpaper OLED TV
LG's 77-inch OLED TV features a super-thin design with active HDR and 4K resolution. LG says the TV is so thin that it can directly be attached to a wall. At 2.57 mm in thickness, the super-thin nature is a result of not needing a backlight. The TV has a soundbar that is separate from the TV that LG claims includes Dolby Atmos next-generation surround sound for the first time.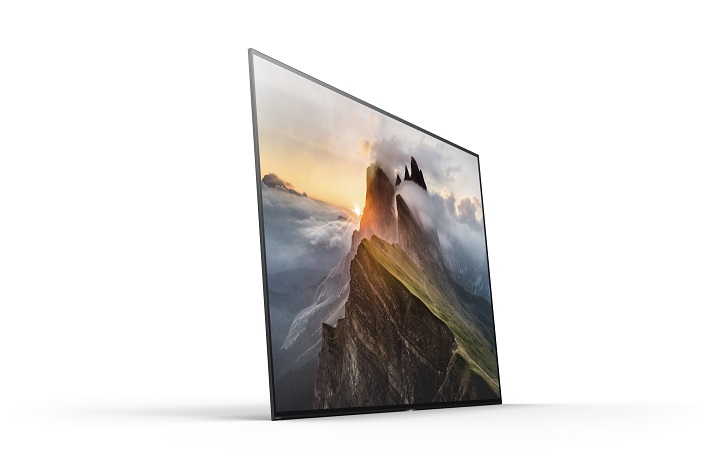 The 77-inch Bravia OLED is the first to offer Acoustic Surface sound that eliminates the need for speakers in the television. Source: Sony
Winner of the 2017 CES Best of Innovation Award, the OLED TV provides perfect black color, infinite contrast, expanded color gamut and wider viewing angles than other TV technologies.
Sony Bravia OLED TV
The 77-inch XBR-A1E Bravia OLED series claims to have the world's first Acoustic Surface sound system that resonates sound from the TV itself. The TV has 8 million self-illuminating pixels, 4K resolution and is powered by Sony's HDR Processor Extreme to control the pixels.
The Acoustic Surface produces a wide sound and image synchronization from all angles, even off to the sides. And with OLED's wide viewing angles, consumers get a good view of the content on the TV regardless of where they are sitting. The Acoustic Surface sound also means that there is no need for conventional speakers resulting in a slightly different form factor than other OLEDs.
Samsung's QLED TV
Samsung has already introduced a QLED monitor for next-generation gaming, but it also introduced two new QLED televisions at CES, a 4K version and a HDR version that will come in two flat sizes and one curved one.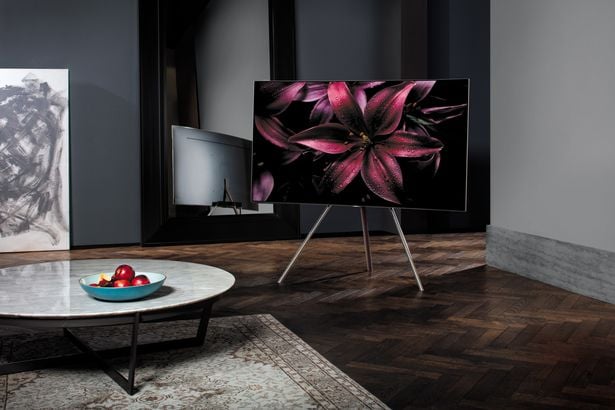 Samsung introduced a quantum dot LED TV that the company says goes beyond the picture quality of OLED TVs. Source: Samsung
The TVs are at the bleeding-edge of televisions, meaning they will come with a steep price tag but promises to include better blacks and enhanced colors than current OLED TVs.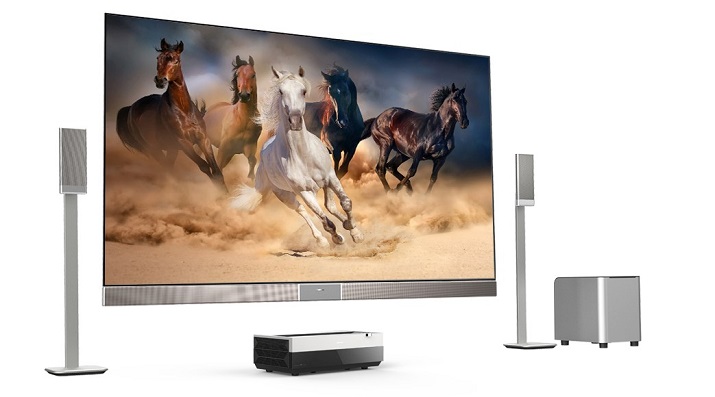 Hisense has brought laser-projection back to televisions with its 100-inch, $13,000 TV system. Source: HisenseHisense 4K ULED TV
Chinese consumer electronics vendor Hisense unveiled a massive 100-inch, laser-projected 4K ULED TV that includes quantum dot technology, a wide color gamut, Bluetooth audio and full array local dimming.
Priced at $13,00, it will still be out of the range of most consumers but early adopters will want it because of its wide color gamut support and a 5.1 sound channel system with two rears and a subwoofer included.