RF switches are a ubiquitous and vital component of many designs -- that's not news. Until now however, the options that designers had for implementing them were limited: electromechanical switches (effective but obviously too large, slow, and costly for many situations), silicon and silicon-on-insulated (SOI) based ICs (good performance, moderate cost, but limited bandwidth), and circuits using PIN diodes (which can work well but needs a significant amount of associated support components for the total design and have many subtle issues).
However, just as MEMS-based accelerometers have truly revolutionized sensing -- consider what they have done to the world of airbag-impact sensors, gyroscopes and even inertial measurement units – they are now doing the same to RF switching with the benefits of true mechanical action but not the drawbacks (although large electromechanical switches can, of course, handle kilowatts -- that's one key difference).
Proof of the difference MEMS can make for RF switching is seen in a recent release of a pair of ICs from Analog Devices, Inc., which transforms the promise of MEMS-based switching mechanisms into a commercial reality. The ADGM1304 and similar ADGM1004 (with advanced ESD protection) offer similar wideband performance from DC to 14 GHz, via a single-pole four throw (SP4T) configuration, Figure 1. The switches meet MIL-STD-883 requirements and so are suited for mil/aero applications as well as more benign automatic test equipment (ATE) installations.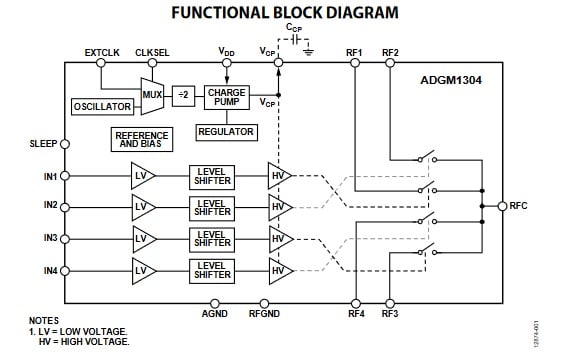 The ADGM1304 and ADGM1004 implement contact-based (not electronic) switching of RF signals from DC to 14 GHz in a single-pole, four-throw (SP4T) arrangement using a TTL/CMOS-controlled MEMS structure. (Source: Analog Devices, Inc.)
The MEMS switch mechanism here is a hard "mechanical" contact rather than an all-electronic switch which is turned "on" (in its conductive state) or "off" (non-conductive state) -- they are the MEMS realization of the all-metal electromechanical switch. The devices are not monolithic since the processes required to build the MEMS switch mechanism itself is quite different than that needed for TTL/CMOS-compatible switch driver. What Analog Devices has done is co-package the two die in a common, hermitically sealed housing which appears to the user as a single component with guaranteed specifications, Figure 2. The switches achieve this broadband operation by using DC coupling rather than capacitive coupling.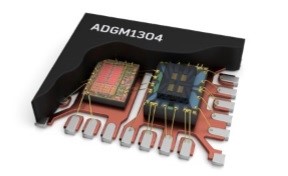 Within the MEMS-based devices are two die, one for the low-level control interface and requisite driver, the other for the MEMS structure itself. (Source: Analog Devices, Inc.)
The switches operate from a single supply between 3.1 V and 3.3 V and are rated for billions of switching cycles, which is 10 times longer than a conventional electromechanical switch, while switching speed is 30 µsec (typical) for on and 5 µsec for off, both several orders of magnitude faster than the traditional EM RF switch. On-resistance is low at just 1.8 Ω, and insertion loss is 0.45 dB at 2.5 GHz and 0.63 dB at 6 GHz. Linearity is also high, with typical input third order intercept point (IIP3) of +69 dBm.
The ESD-protected ADGM1004 is housed in a 24-lead chip-scale package and measures just 5 × 4 × 1.45 mm -- the ADGM1304 is 5 × 4 × 0.95 mm. Current requirement during sleep mode is 1 µA. Both parts are sampling now, the ADGM1304 is available now, priced at $36.58 each in 1,000-piece lots, and the ADGM1004 will be shipping in February, priced at $39.34. Evaluation boards (EVAL-ADGM1004 and EVAL-ADGM1304) are available for users who need to test out the switch's performance and compactivity with their application, Figure 3.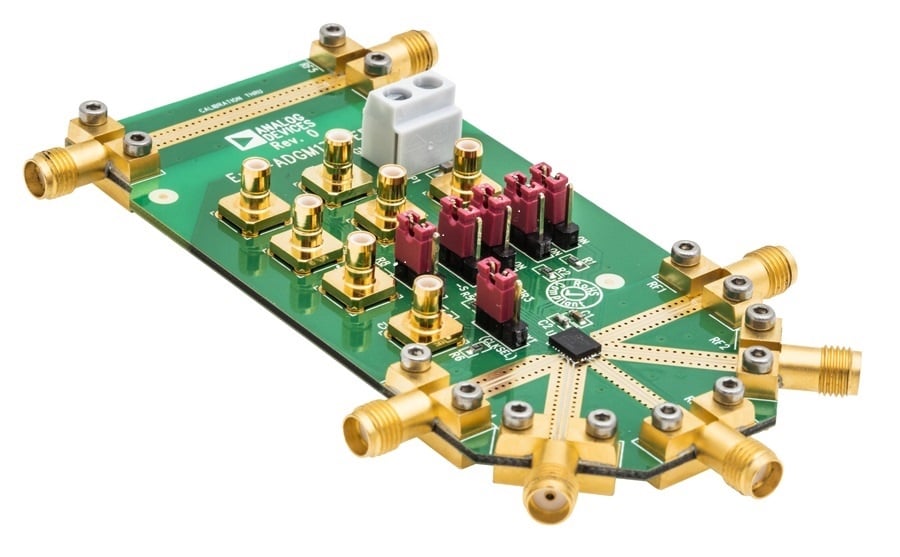 An evaluation board is available for each for the RF switch ICs, which requires a 3.3 V power supply, RF sources, and a network analyzer; shown is the board for the ADGM1304. (Source: Analog Devices, Inc.)
This implementation of an RF-switching mechanism is a true embodiment of the "EM" part of MEMS (Micro ElectroMechanical Systems,) and a tangible indicator of how MEMS technology is disrupting not only sensors themselves but also other critical circuit functions from DC to RF. Their detailed note "The Fundamentals of Analog Devices' Revolutionary MEMS Switch Technology" is an informative four page exposition of the technology as well as the products.