European chip maker NXP Semiconductors NV advanced its penetration in the automotive space with a deal to jointly develop automotive Ethernet switch products with TTTech Computertechnik AG, a provider of networking solutions based on time-triggered technology and modular safety platforms.
Tailored for the automotive sector, the Ethernet switch will support OPEN Alliance BroadR-Reach Ethernet PHY technology, which allows multiple in-vehicle systems to simultaneously access information over a single unshielded twisted pair cable at a bandwidth of 100 megabits per second (Mbps). TTTech will provide the switch IP, while NXP will implement the intellectual property into Ethernet switches with integrated PHY.
By eliminating shielded cabling, automotive manufacturers can sharply cut connectivity costs and cabling weight, NXP said.
According to Luca De Ambroggi, a senior analyst for automotive infotainment at IHS, the development and integration of Ethernet switches is another important step that NXP is taking to offer a complete Ethernet solution for vehicles.
TTTech's chip IP supports several standards, including standard Ethernet (IEEE 802.3), Time-Triggered Ethernet (SAE AS6802) as well as AVB 1.0 and the evolving TSN (Time Sensitive Network).
Toni Versluijs, vice president and general manager of in-vehicle networking at NXP, said the deal with TTTech is right in line with NXP's strategy. "NXP's automotive strategy is to connect the car: to provide the connections between the car and its environment, and to provide connections inside the car," Versluijs said. "The Ethernet switch is a key building block to create an in-vehicle Ethernet network."
The automotive sector has been a primary focus for NXP. In January, NXP made a key investment in automotive wireless communications specialist Cohda Wireless to advance intelligent transportation systems (ITS) and car-to-X communications.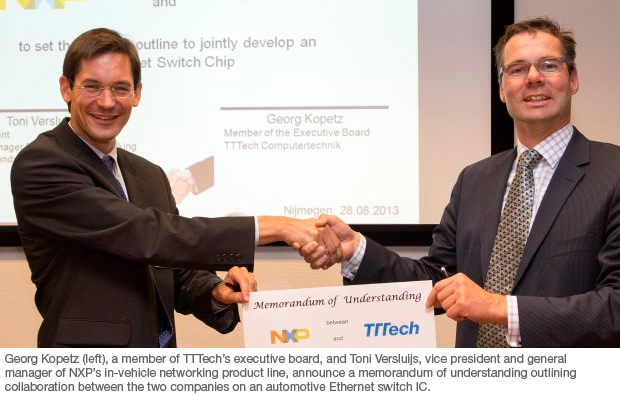 NXP's automotive chip sales totaled $253 million in the second quarter, an increase of 10 percent sequentially and 4 percent year-over year. Automotive sales accounted for 21 percent of the company's total second quarter sales. Automotive is NXP's second-largest market sector, trailing behind identification, which accounted for nearly 30 percent of second-quarter sales this year.
The market for automotive infotainment chips was worth about $6.24 billion last year. This market is expected to grow to about $7.7 billion in 2018. NXP was the leading supplier of automotive infotainment chips in 2012, accounting for about 15 percent of the total market, according to IHS.
"NXP has the ambition to focus on those areas where it can add maximum value and work with other companies in a complementary way," Versluijs said.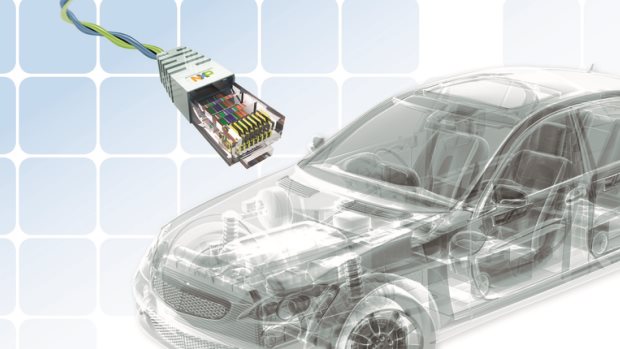 The deal with TTTech will enable NXP to produce the first Ethernet switch chip to incorporate three traffic classes, including standard Ethernet traffic for diagnostics and ECU flashing, asynchronous rate-constrained traffic for audio/video streaming and sensor fusion, as well as synchronous traffic for hard real-time control and fail-operational systems. In addition to automotive, the switch chip will also be suitable for various demanding industrial real-time applications.
"In the case of the Ethernet switch, NXP is combining the switch engine IP provided by TTTech, with NXP's own in-vehicle networking expertise in physical layer (including Ethernet) and with NXP's capabilities in creating and producing automotive-grade semiconductors," Versluijs said. "This is the fast route to an Ethernet switch that enables car makers to build automotive-grade Ethernet networks inside the car."