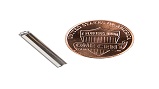 Rechargeable pin-type lithium-ion battery. Source: Panasonic Panasonic Corporation will showcase its rechargeable pin-type lithium-ion battery (CG-320A, CG-425 and CG-435) as well as its flexible lithium-ion battery (CG-062939, CG-063555, and CG-064065) at booth #12908 at the Consumer Electronics Show (CES) January 5-8th, 2017, in Las Vegas, Nevada.
The pin-type lithium-ion battery CG-320A has a nominal capacity of 15.0 mAh with a diameter of 3.65 mm and weighs 0.6 g. This battery is suited for powering small applications such as wearable devices. This product, in addition to being a small cylindrical-shaped rechargeable lithium-ion battery, features high reliability and high output. Specific applications include wearable devices, active stylus pens, measuring devices, near-field communications and specialty eyewear. The battery also features a metallic can that prevents battery swelling and also provides dimensional stability. The CG-320A, CG-425 (30 mAh) and CG-435 (50 mAh) are currently still in the development phase.
The flexible lithium-ion battery is extremely thin. This 3.8 V rechargeable battery maintains its characteristics even when bent and twisted repeatedly. Specific applications include body-attached devices, smart clothing and smart cards. Because of its safety features, this battery is suitable for wearing on the body. Additional features include longer life for devices and maintaining original characteristics after repeated bending and twisting. The flexible lithium-ion battery is currently still in development.