A group of researchers at Kansas State University has developed a method to greatly improve the capacity of lithium-ion rechargeable batteries, the key components of mobile phones and other rechargeable electronic devices.
The research team of Gurpreet Singh, assistant professor of mechanical and nuclear engineering at KSU, is improving rechargeable lithium-ion batteries by studying a particular layout of molybdenum disulfide (MoS2) sheets wrapped by silicon carbonitride (SiCN). They have shown that this structure exhibits less capacity fadingthan actual lithium-ion electrodes.
The team has also observed that molybdenum disulfide sheets store more than twice the charge of bulk molybdenum disulfide. The capacity of bulk molybdenum disulfide electrodes does not last long and drops after five charging cycles.
"This kind of behavior is similar to a lithium-sulfur type of battery, which uses sulfur as one of its electrodes," Singh said. "Sulfur is notoriously famous for forming intermediate polysulfides that dissolve in the organic electrolyte of the battery, which leads to capacity fading. We believe that the capacity drop observed in molybdenum disulfide sheets is also due to loss of sulfur into the electrolyte."
To reduce the loss of sulfur, researchers wrapped the molybdenum disulfide sheets between layers of a high-temperature ceramic called silicon carbonitride (SiCN).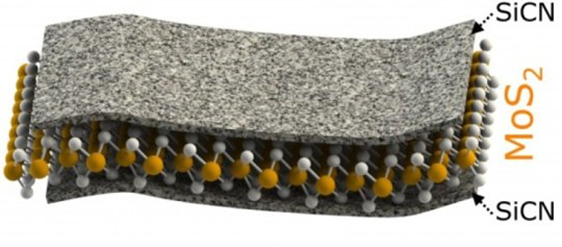 Molybdenum disulfide (MoS2) sheets – which are "sandwiches" of one molybdenum atom between two sulfur atoms may improve rechargeable lithium-ion batteries.Source: Kansa State University
"The silicon carbonitride-wrapped molybdenum disulfide sheets show stable cycling of lithium-ions irrespective of whether the battery electrode is on copper foil, which is the traditional method, or as a self-supporting flexible paper as in bendable batteries," Singh said.
After testing the new design Singh and his team disassembled the battery, and with the help of an electron microscope found that the ceramic wrapper protected the molybdenum disulfide sheets from mechanical and chemical degradation.
The next step in the research is to try these batteries in a real everyday electronic device, such as a smart phone that is recharged hundreds of times.
The result of the research was published in Nature's Scientific Reports under the title "Polymer-Derived Ceramic Functionalized MoS2 Composite Paper as a Stable Lithium-Ion Battery Electrode" on March 19, 2015.