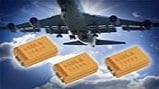 AVX Corporation has extended and upgraded its TCR Series professional conductive polymer chip capacitors with new case sizes; capacitance values and voltage ratings; a higher maximum operating temperature; enhanced performance capabilities in humid environments; MIL-STD-202 mechanical shock and vibration qualification; and improved reliability.
Based on AVX's conductive polymer electrode technology—the materials, construction and processing of which has been optimized for utmost stability—TCR Series capacitors deliver reliable, long-lifetime performance in DC/DC converter applications throughout the telecommunications, industrial and avionics industries. Under recommended use conditions, these capacitors display a more benign failure mode than traditional SMD electrolytic capacitors.
Now available in three case sizes—EIA Metrics 3528-21, 7343-31 and 7343-20, with a another case (3528-12) currently in development—TCR Series professional conductive polymer capacitors feature extended voltage ratings from 4 V to 50 V, with rated voltage up to 105° C, and capacitance values up to 220 µF. The maximum operating temperature for the series was raised by 20 degrees, extending the allowable range from –55° C to +125° C; humidity ratings were improved from 85° C/85% RH at rated voltage for 120 hours to 500 or 1,000 hours. Standard DCL for the series is 0.1CV, although values down to 0.05 CV are now available on selected codes; ESR values range from 40 mΩ to 70 mΩ.
The polymer chip capacitors are subjected to AVX's patented Q-process, which combines maverick part control with statistical screening and process control enhancements to ensure the removal of any components that may experience parametric shifts through customer processing, or display instability through operational lifetime. The TCR Series also features an improved base reliability of 0.5% per 1,000 hours at 85° C, and rated voltage with 0.1 Ω/V series impedance.
The capacitors are available on seven-inch and 13-inch reels with pure tin or tin-lead terminations. Lead-time for the series is currently 10 weeks.