Passive components supplier AVX Corp. has released a new series of next-generation, medical-grade, solid-tantalum capacitors offering lower DC leakage (DCL) values of down to 0.0025 CV, or 25% of typical industry limits. Labeled TAZ Series HRC6000, the capacitors are designed for use in a variety of medical implantable and life-support devices.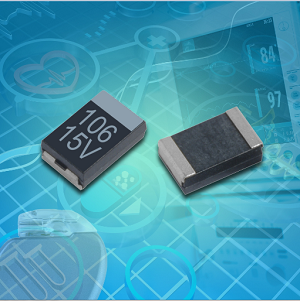 The solid-tantalum capacitors are manufactured using the company's patented Q-Process, which was developed to ensure the production of the highest reliability tantalum capacitors. In operation since 2013, the Q-Process employs enhanced embedded screening to effectively remove any component that may experience parametric shifts as a result of processing or display instability through life testing. Thus, it offers users stable and normalized DCL distribution with excellent reliability.
Currently the medical-grade, solid-tantalum capacitors come in E-cases (metric code: 5025) with three rated voltages (6 V, 10 V, and 15 V), three capacitance tolerances (±5%, ±10%, and ±20%), and capacitance values spanning 10 μF to 33 μF. More additions to the series are scheduled for later this year in A-cases (metric code: 2512) with the same voltage ratings and capacitance values spanning 0.68 μF to 1.5 μF. Rated operating temperatures for the series range from -55° C to +125° C, and the capacitors can be supplied with one of four termination finishes: solder-plated, solder-fused, gold-plated and 100% tin. The latter two finishes are lead-free compatible and RoHS compliant. According to the manufacturer, the lead-time for the series is eight weeks, and components can be shipped in bulk, on 7-inch tape and reel, or in waffle packaging.