Ophidiophobes take notice: snakes may one day save your life.
Researchers at the National University of Science and Technology in Moscow (MISIS) have developed a way to detect cancer early by combining quantum dots with cobra venom.
Alpha-neurotoxins found in cobra venom are known to cause paralysis in victims. They do this by targeting nicotinic cholinoreceptors, which happens to be the specific group of proteins that malignant tumors produce in large amounts.
By combining quantum dots with these neurotoxins, researchers found a way for the hybrid compound to reach an infected organ with the blood flow, and mark the entire boundary of the neoplasm with fluorescent nanoparticles.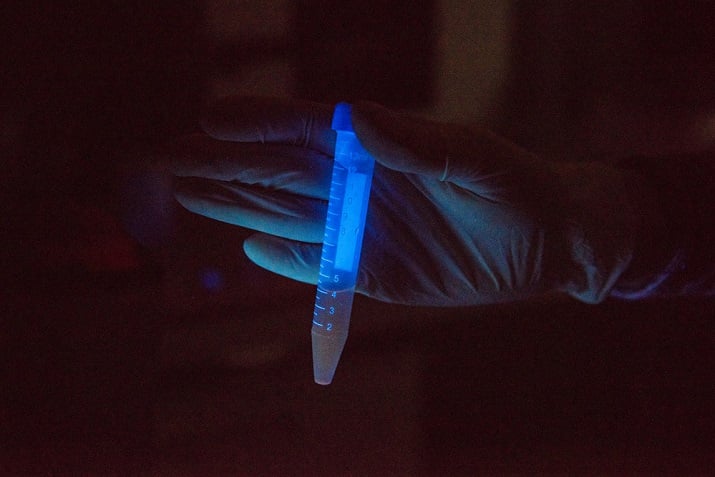 The hybrid compound of cobra venom and quantum dots can find cancer tumors and highlight them in the body. Source: MISIS "We used specially devised methods to synthesize neurotoxin-quantum dot conjugates that maintain stability in human use," says Professor Yury Utkin, project director at the MISIS Energy Efficiency Center. "The nanoparticles of cadmium selenide are covered with a thin film of peptide (very short protein), which explains the high biocompatibility of conjugates and helps neutralize the toxicity of the quantum dots. At the same time, these conjugates are much smaller than their analogs, which greatly simplifies the delivery of the substance into the organ."
The use of these fluorescent nanoparticles can greatly enhance the efficiency of diagnosis because they are brighter and have a higher light stability, researchers say. The substance can also be used as a method of targeted therapy if medicine is added to the hybrid compound.
The researchers are currently working to streamline the substance for preclinical tests.