A laser probe that is small, sensitive and sufficiently biocompatible for use in cellular labeling applications has been designed by University of Arkansas, Georgia State University and Russian Academy of Science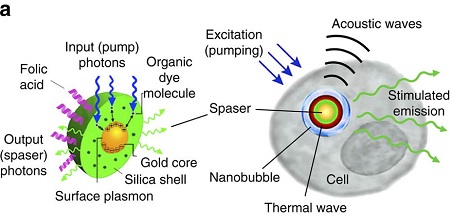 Schematic of spaser as multimodal cellular nanoprobe. Source: E. I. Galanzha et al.researchers.
The surface plasmon amplification by stimulated emission of radiation (spaser) devices is only 22 nm in diameter, but detects and kills single cancer cells by generating intense light directly in cells and transforming the light into heat, nanobubbles and sound waves.
A spaser, composed of gold spherical nanoparticles as the optical resonator surrounded by a silica shell, demonstrated a lasing regime with an emission intensity and spectral width more than 100 times brighter and 30-fold narrower than for quantum dots, the application of which is constrained by toxicity and light attenuation limitations. Testing also showed that the system could target circulating tumor cells.
The spaser device, described in Nature Communications, can be bonded with folic acid and other therapeutic compounds for molecular targeting of individual cancer cells without adversely affecting healthy tissue.