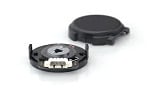 US Digital has added 400 and 500 cycles per revolution (CPR) resolutions to its existing E4T line of miniature optical encoders. Designed for robotics, medical and other industrial automation applications, the E4Ts deliver position and velocity feedback, while fitting National Electrical Manufacturers Association (NEMA) motors as small as size eight.
Utilizing state-of-the-art transmissive optical sensing technology, the newly announced 400 and 500 CPR resolutions represent up to a 38% increase in available CPR, and now support applications requiring up to 2,000 pulses per revolution. This substantial increase in resolution was achieved without any compromise to package form factor, electrical characteristics or output signal robustness. The E4T line of encoders is available in both single-ended and differential signal outputs for applications where noise immunity is critical. Moreover the 400 and 500 CPR options retain the simple and efficient, push-on hub disk-assembly process of the E4T, helping US Digital customers keep installation time, assembly cost and complexity to a minimum.
Besides the new 400 and 500 CPR resolutions, the encoder offers 10 resolutions up to 360 CPR. It is available in 288 configurations, including single and differential output.
The encoder has a compact form factor of 0.866 inches outside diameter by 0.446 inches high. It fits NEMA 8, 11, 14 and 17 motors.
Sample and production quantities of the 400 and 500 CPR E4T are now available.