In an effort to garner new sustainable solutions for public transport in urban areas, Scania is testing a newly developed electric hybrid bus that will operate in regular urban traffic in the city of Södertälje, Sweden.
Scania says this is the first time that wireless charging is being tested in the Nordic region for buses, and the first time the technology will be used in an extreme climate. Scania is the public transport operator for the Stockholm region. The project is being partly financed by the Swedish Energy Agency.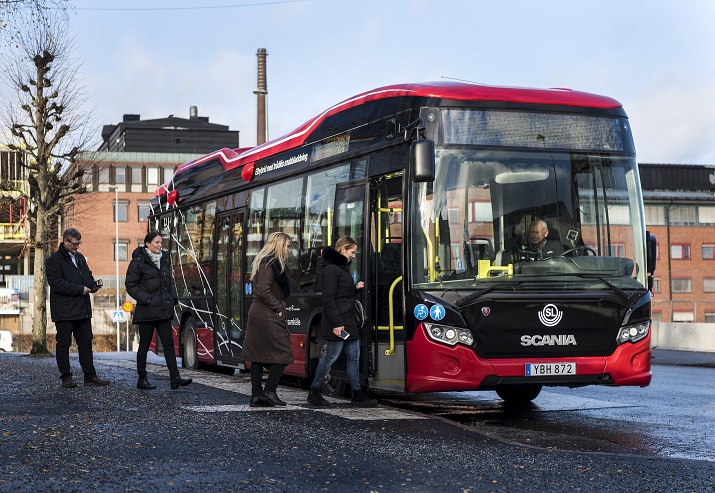 Wireless charging technology for a new type of bus in Sweden will take only seven minutes to provide enough charge to cover an entire route. Source: Scania The technology involves a bus being parked over a charging segment that is located under the road surface at a charging station, and the process begins automatically. The wireless recharging uses inductive technology in order not to disturb existing urban infrastructure. Scania says it takes seven minutes of wireless charging to cover an entire 10-kilometer long route. The bus will operate in Södertälje.
"The electric hybrid bus in this project demonstrates a technology track for a more sustainable transport solution, says Hedvig Paradis, who is a project manager at Scania. "The inductive charging technology is both silent and invisible. The field test in Södertälje is important ahead of the choices facing both society and the automotive industry, with regard to eliminating emissions and reducing noise from traffic in sensitive urban environments."
Scania says the wireless recharging bus is one of numerous sustainability projects, including electrification, the transportation company is conducting in order to locally produce alternative fuels. The bus being tested is a hybrid vehicle that will also charge during operation by using braking power. Charging may also occur using the bus's combustion engine, which operates on fossil-free fuel.