Momentum Dynamics is promising to roll out a 200kW wireless charging system this year for the municipal bus market.

While initially planned for mass transit, the system could be pared down to electric vehicles where it would top Tesla's Supercharger as the fastest charging system for EVs. Tesla's Supercharger currently operates at 135kW while most EV plug-in chargers operate at less than 10kW.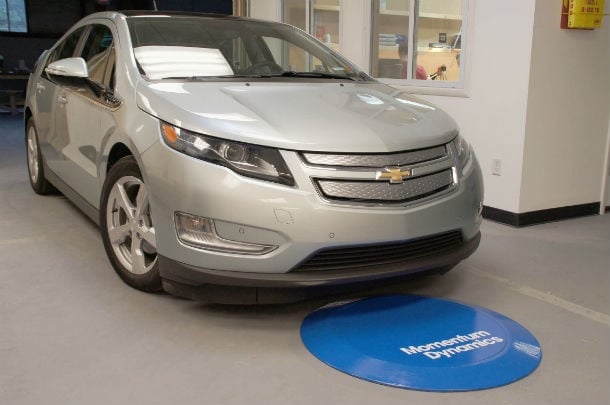 Momentum uses a transmitter on the ground and a power receiver mounted to the underbelly of an electric vehicle to enable wireless charging. Source: Momentum Dynamics High power in EV charging is key to fast charging of vehicles. With one of the main concerns among consumers about being able to keep their vehicle charged long enough to go long journeys, fast charging would help to extend the range of electric buses or cars by allowing for en route charging by having stations set up along routes.

Momentum Dynamics delivered 25kW and 50kW charging systems to automotive vendors last year and the move to supply these automotive companies with a faster, more powerful system is a natural progression in the market considering the growing market need, the company says. Momentum says they have even higher power systems in development as well.

The company plans to deliver two wireless charging systems to bus agencies in Maryland and Washington State in 2016. Momentum's chargers use resonant magnetic induction to transfer power without the use of cables. The charging is completed using a transmitter on the ground and a power receiver mounted to the underside of an electric vehicle. Despite a 12-inch gap between devices, Momentum says the efficiency of the inductive charging is equivalent to plug-in charging.

Momentum believes wireless recharging will gain considerable traction in the coming years as cities begin to replace aging fossil fuel vehicles with electric vehicles in order to reduce operating costs and to help with anti-pollution regulations being put in place by governments worldwide.

"Fast automatic charging will enable the EV market to grow faster. It is completely autonomous, carefree and safe," says Andrew Daga, CEO of Momentum Dynamics.

To contact the author of this article, email engineering360editors@ihs.com.